Joseph Lindon Smith: The Persepolis Paintings
A Special Exhibition
January 27–August 28, 2022
Explore the ruins of the great Achaemenid city through the stark realism and grandeur of Joseph Lindon Smith's Persepolis paintings, on view for the first time in over 80 years.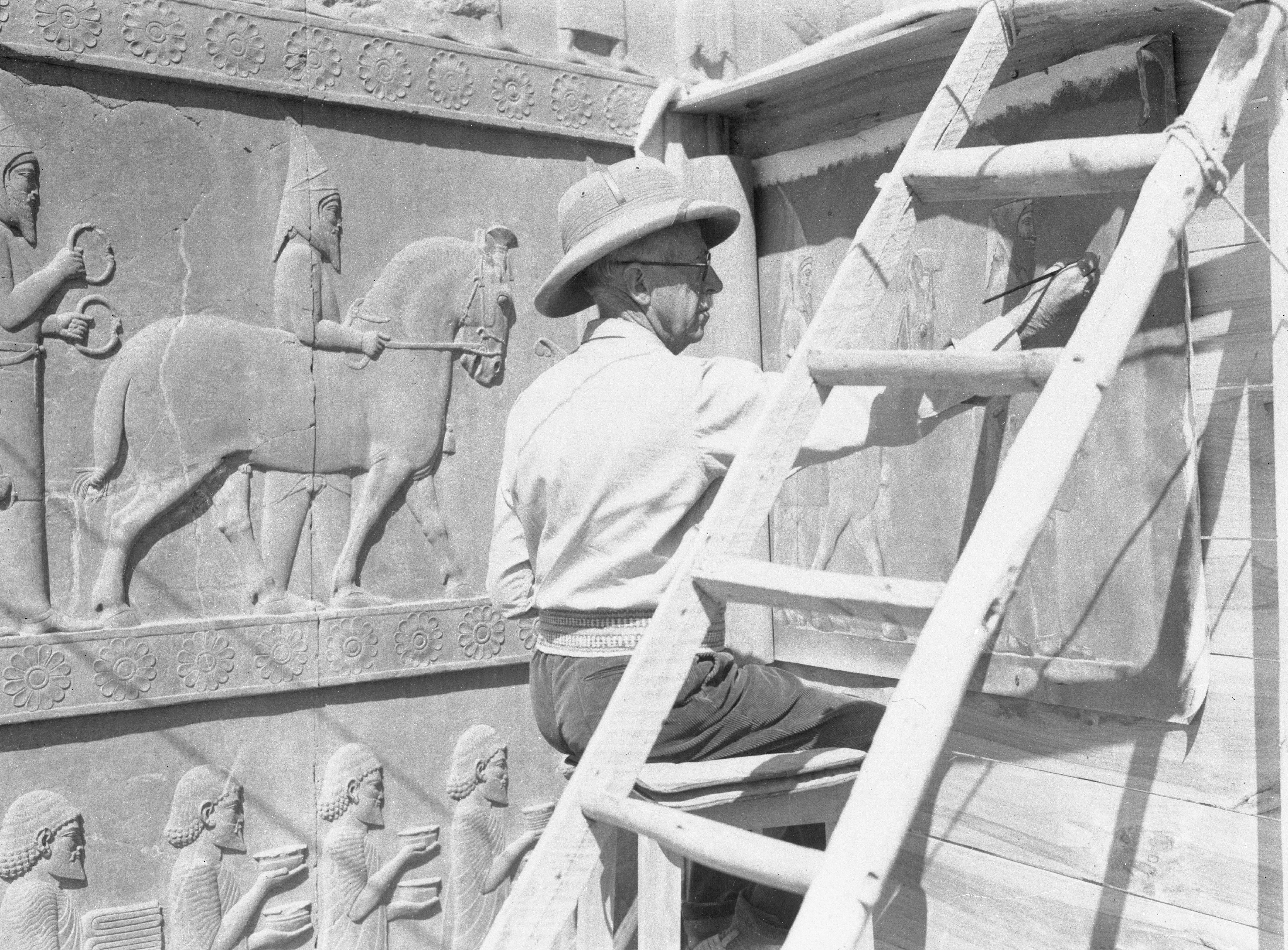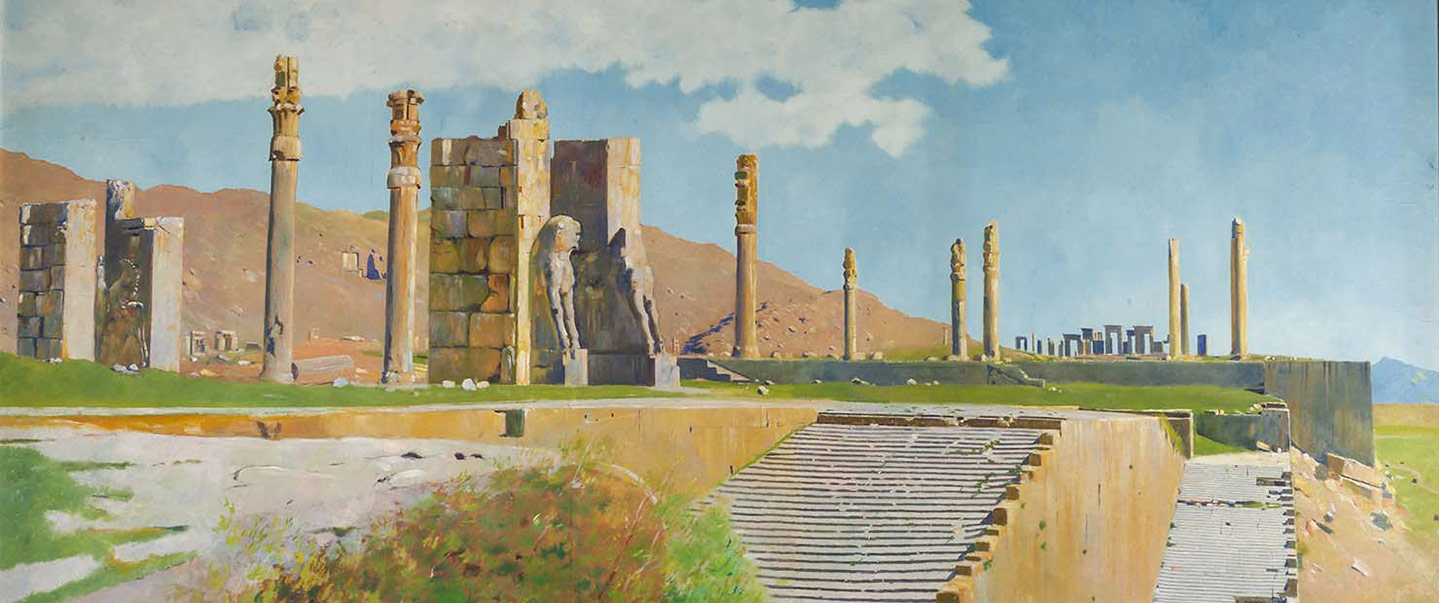 Landscape scene of the monumental terrace including the Gate of All Lands, Persepolis, Iran (oil on canvas, 318 x 201 cm, OIM G4).
Joseph Lindon Smith (American, 1863–1950) was already an accomplished painter, celebrated for his ability to capture archaeological subjects with vivid realism, when he was invited to Persepolis by James Henry Breasted, OI founder and then director, in 1935 to join the OI Iranian (Persian) Expedition (1931–39). Smith's Persepolis paintings—ultimately three portraits and three landscapes—complemented the work of the expedition, whose goal was to rigorously document and preserve the site for perpetuity. The special exhibition, Joseph Lindon Smith: The Persepolis Paintings, curated by Kiersten Neumann, exhibits all six large-scale paintings to the public for the first time since 1939. 
FROM THE OI
PERSEPOLIS PAINTINGS PERFECTLY GLORIOUS AND CERTAINLY MARK CULMINATING POINT OF HIS CAREER STOP THE WHOLE PROJECT HAS BEEN IN EVERY WAY A GREAT SUCCESS.
Cable from Prentice Duell to James Henry Breasted, May 1935
Exhibition Preview
Joseph Lindon Smith: The Persepolis Paintings
Exhibition Programming
Visit the Exhibition
Click here for visitor information and museum hours.
Watch "Persepolis From the Air," a film featured in the OI Museum's special exhibition, Persepolis: Images of an Empire (October 2015–September 2016)
Watch "4,000 lb Ancient Persian artifact from Persepolis returns to the Oriental Institute at UChicago" (September 2019)
Watch "OI Armchair Travelers: A Journey to the Ancient Land of Persia," with Kiersten Neumann (May 2021)
Download the OI publication, Persepolis I: Structures, Reliefs, Inscriptions (1953)
Download the OIM exhibition catalog, Picturing the Past: Imaging and Imagining the Ancient Middle East (2012), featuring the article, "The Persepolis Paintings of Joseph Lindon Smith," by Dennis O'Connor
View the OI's catalogue of expedition photographs, Persepolis and Ancient Iran (1967)
Learn more about the OI's work in Iran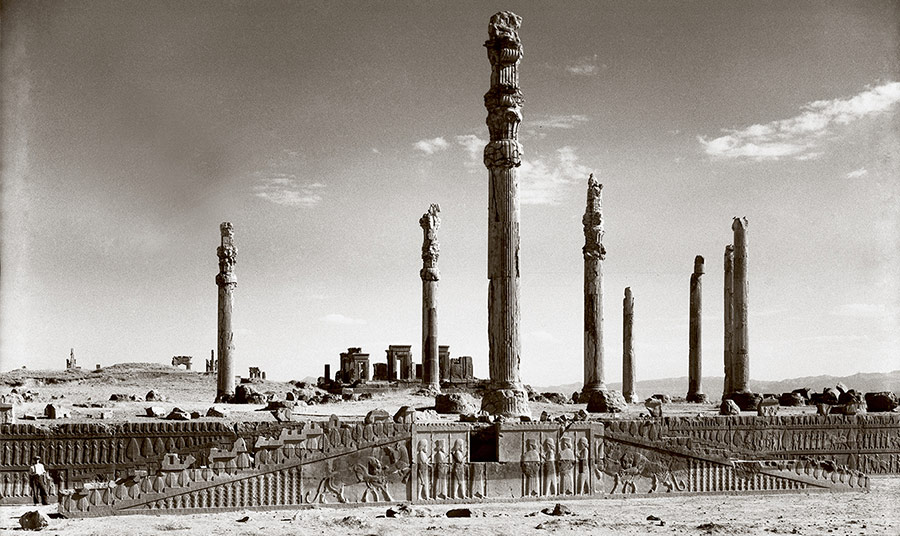 ​Media Coverage
​