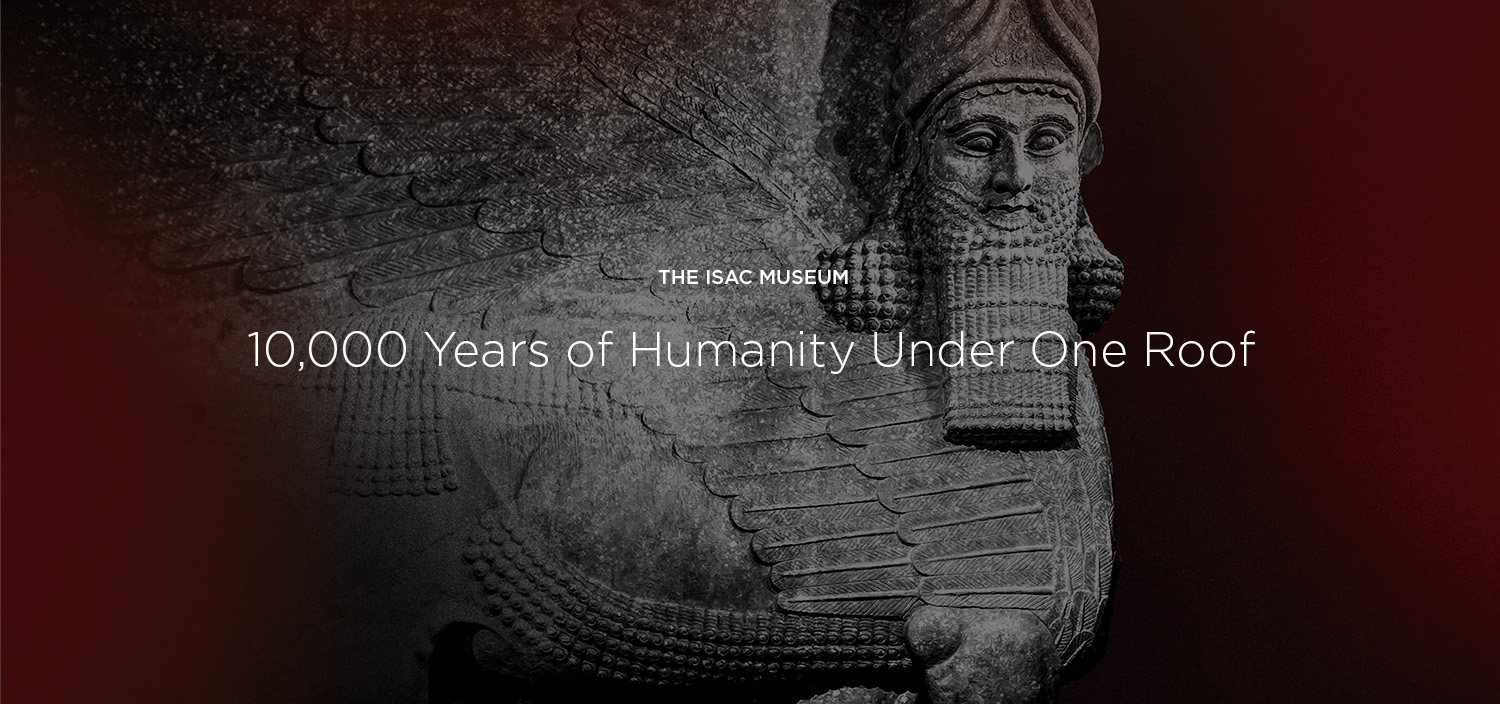 Visit the Museum
A different kind of museum-going experience
Museum Hours:

Tuesday–Thursday, Saturday–Sunday 10:00am–4:00pm
Friday 10:00am–8:00pm (Friday, September 22, the museum will close at 4:00pm)
 

Individuals: 

No reservation required. 
Suggested Admission Fee (payable at entry): Adults $10, Children (12 & under) $5.
 

Adult & Family Group Visits:

Includes Groups of 10 or more; Groups led by their own guide.
Required registration and admission fee.

School & Youth Group Visits:

Required registration and admission fee. 

Members: Admission is always free for Members and the UChicago community (students, faculty, and staff with UChicago ID) and their guests; if you're not yet a member, become one today.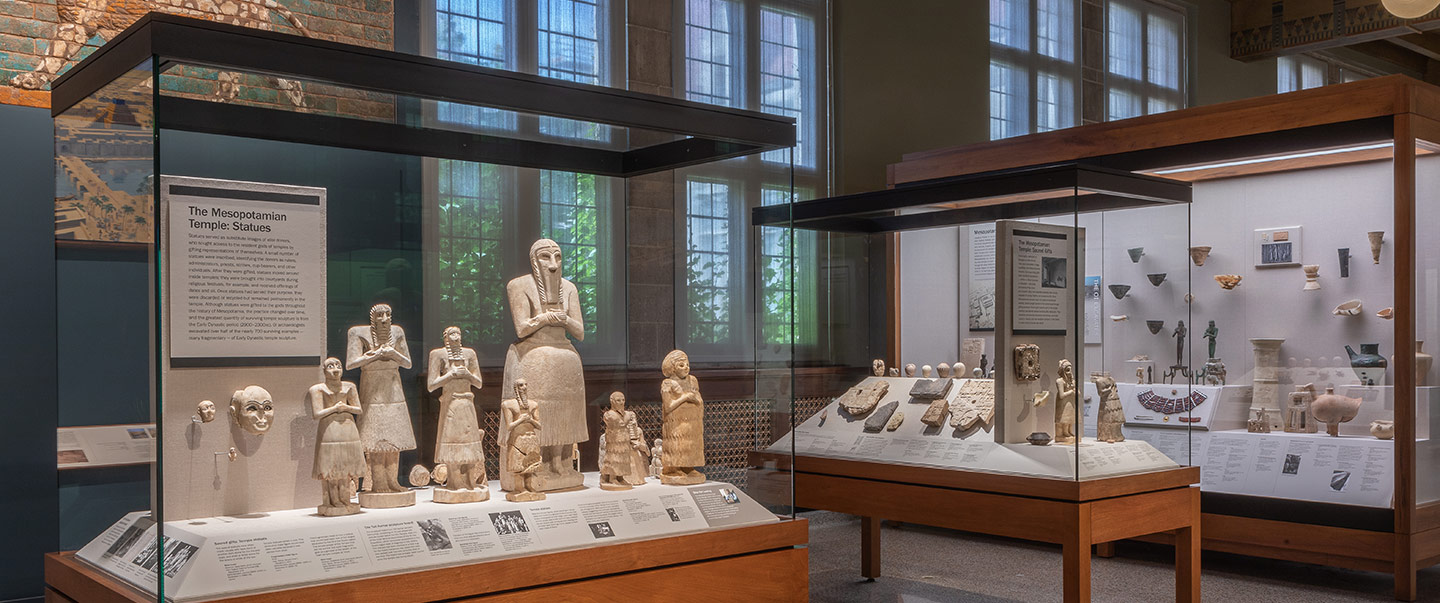 Mesopotamian temple statues and gifts in the Mesopotamian Gallery
The world-renowned ISAC Museum aims to understand, reveal, and protect the past.
Right at 58th and University is one of the world's greatest centers for understanding the story of our lives as humans together; envisioned as a "laboratory for the study of the rise and development of civilization," ISAC is the University of Chicago's—and one of the world's—very first interdisciplinary institutes. The ISAC Museum houses some 350,000 artifacts, excavated mainly by ISAC archaeologists, and includes a comprehensive archive that documents our fieldwork and other research. Together, the ISAC Museum collections comprise one of the best resources in the world for the archaeology, art, history, and languages of West Asia and North Africa, allowing us to understand, reveal, and protect the past.
The ISAC Museum displays objects recovered by ISAC excavations in permanent galleries devoted to ancient Egypt, Nubia, Persia, Mesopotamia, Syria, Anatolia, and the Levant, as well as rotating special exhibitions. As you explore these galleries, you'll discover how people thousands of years ago forged a collective identity—confronting, as we do today, issues of autonomy, diversity, and unity. We start here. Whether you're a current, aspiring, or amateur archeologist, artist, humanist, scientist, historian, philosopher, or linguist, we invite you to visit and learn about the beginnings of our lives as humans, together.
ISAC BY THE NUMBERS
350,000
approximate number of artifacts in the collection, primarily excavated by ISAC archaeologists
5,000
approximate number of artifacts on display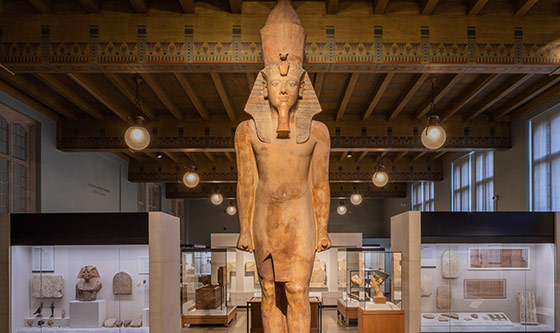 Colossal satue of king Tutankhamun
ISAC Museum Special Exhibitions
Back to School in Babylonia (opening September 21, 2023)
Artifacts Also Die (April 5–August 27, 2023)
Contemporary Art Installations

ISAC Museum Shop Hours
Wednesday, Saturday–Sunday
10:00am–4:00pm

Visit the Museum Shop online.



Support ISAC!
Your donation helps keep the galleries open and free to the general public. Make a gift today! To support ISAC scholarship and fieldwork year round, become a member.
 
Photography Policy
Photography is permitted in the museum galleries. Use of tripods, monopods, selfie sticks, or additional lighting units, however, is not permitted. To request publication-quality image files from our Digital Archives (including object, exhibition, and archival photographs and illustrations) and to obtain permission for publication, visit Photo Requests and Permissions.
 
Sketching Policy
Visitors and groups may only use pencil and must have a notebook or clipboard to use. Leaning on cases is not permitted.
 
Items Not Permitted in the Galleries
Food or drinks, backpacks, umbrellas, parcels or bags larger than 11"x13", and e-cigarettes and vaporizers. Also, please refrain from talking on any cellular devices while inside the galleries.
 
Parking
For information on parking around campus, please visit the University of Chicago Visitor Parking webpage. 
 
Accessibility
Please visit our Accessibility webpage.