SAC 1. Where Kingship Descended from Heaven: Studies on Ancient Kish, edited by Karen L. Wilson and Deborah Bekken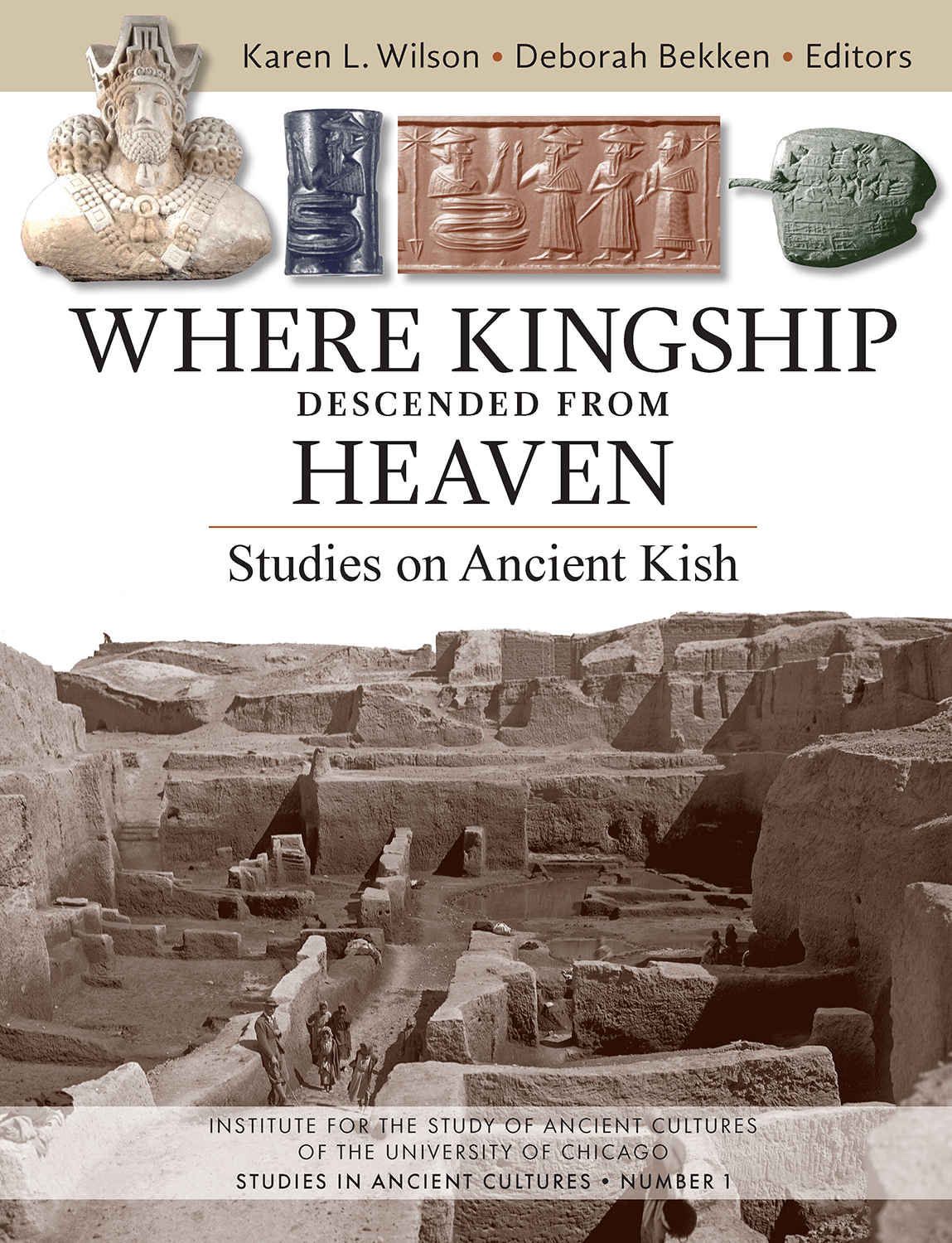 Purchase Download Terms of Use
From 1923 to 1933, the Chicago Field Museum and the University of Oxford conducted archaeological excavations at the site of Kish, located on the floodplain of the Euphrates River in modern Iraq approximately 80 kilometers south of Baghdad. Over the course of ten years of work, the expedition explored seventeen different mounds both inside and outside the ancient boundaries of Kish. The finds were divided at the end of each season, with the Iraq Museum retaining half of the objects and any one-of-a-kind items and the two excavating institutions splitting the remainder.
Beginning in 2004, the Field Museum undertook a reevaluation of its Kish holdings. To highlight new research and insights into the material culture from Kish and our understanding of the importance of the site to Mesopotamian archaeology, the Field Museum held a symposium in 2008 that brought together an international group of scholars who presented papers on various aspects of the ancient city. This volume, which grew out of that symposium, presents a wide array of studies on the excavated material remains from Kish, including cuneiform texts, animal figurines, human remains, lithics, figural stucco wall decorations, and more.
Table of Contents
List of Figures
List of Tables
Acknowledgments
Introduction
Abbreviations
Bibliography
1. Life and Death in Early Dynastic Kish: The Evidence from Ingharra, Trench Y, by Guillermo Algaze
2. Animal Figurines at Kish: Variability in Style, Completeness, and Context, by Deborah Bekken
3. Kish and Hursagkalama: An Assessment of the Cities' History and Cults in the Light of Information from Cuneiform Texts, by Stephanie Dalley
4. Sasanian and Post-Sasanian Glass from Kish, by Laure Dussubieux
5. The First Actual Stratigraphic Profile of Part of the Y Trench, by McGuire Gibson, with an appendix on archaeological sedimentation by Joseph Schuldenrein
6. Provenience Investigations of Obsidian Artifacts from the Field Museum of Natural History's Kish Collections Using Portable X-ray Fluorescence Analysis, by Mark Golitko
7. The "Sasanian" Stuccos of Mound H, by Trudy S. Kawami
8. Piercers, Borers, and Perforators: Use Wear and Cylinder Seal Manufacture, by Thomas J. Loebel
9. Life and Death at Kish: Reanalysis of the Human Skeletal Remains, by William J. Pestle, Christina Torres-Rouff, and Blair M. Daverman
10. Chipped- and Ground-Stone Assemblages from Kish, by James L. Phillips and Michelle E. Ekwall
11. Catalog of Ancient Near Eastern Seals in the Collection of the Field Museum, by McGuire Gibson, with Margaret Brandt and Leslie Schramer
Studies in Ancient Cultures 1
Chicago: Institute for the Study of Ancient Cultures, 2023
ISBN (paperback) 978-1-61491-092-3
ISBN (eBook) 978-1-61491-093-0
Pp. 382 (lii + 330), 217 figures, 36 tables
Paperback, 9 x 11.75 inches

$99.95