OIC 31. Barda Balka Bruce Howe, with foreword by Yorke M. Rowan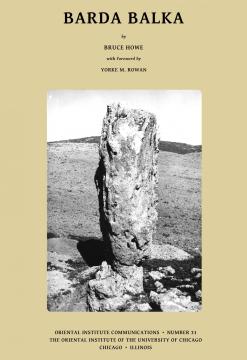 Purchase Download Terms of Use
The Paleolithic site of Barda Balka ("standing stone," "stone to lean upon" in local Kurdish) is situated about 3 kilometers northeast of Chemchemal in Kirkuk Province, Iraq. Until recent years, the site was marked by a natural monolith of limestone conglomerate 3.5 meters high on a rather barren slope partly littered with Acheulean-type bifaces, pebble tools, cores, and flake artifacts.
The site was discovered in 1949 by members of the Directorate General of Antiquities of Iraq while on archaeological reconnaissance in the district. In 1951, during a field season of the Oriental Institute of the University of Chicago under the direction of Robert J. Braidwood (which not only conducted the excavations at nearby Jarmo and Karim Shahir but also carried out wider geological and prehistoric reconnaissance in the extended Chemchemal Valley area), Barda Balka was visited and further studied by Herbert E. Wright Jr. of the University of Minnesota Department of Geology and Bruce Howe, then of the Peabody Museum, Harvard University. Wright and Howe returned shortly thereafter to conduct a four-day sounding campaign of trenching and localized geological investigations. This volume is Howe's final report of these investigations at Barda Balka. Yorke Rowan kindly reviewed the manuscript and provides a Foreword.
Table of Contents
Editor's Note   
List of Abbreviations, Figures, Tables, and Plates
Foreword. Yorke M. Rowan
Acknowledgments
Bibliography
Introduction
The Excavations
Description of the Stone Industry
Conclusions
Concordance
Plates
Oriental Institute Communications 31
Chicago: The Oriental Institute, 2014
ISBN: 978-1-614910-00-8
Pp. xvi + 32; 3 figures, 22 plates, 3 tables
Paperback 9.00 x 11.75 in

$29.95