OIS 8. Iconoclasm and Text Destruction in the Ancient Near East and Beyond Natalie Naomi May, ed.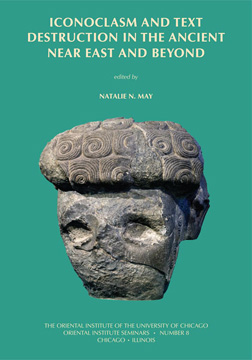 Purchase Download Terms of Use
The eighth in the Oriental Institute Seminar Series, this volume contains papers that emerged from the seminar Iconoclasm and Text Destruction in the Ancient Near East and Beyond, held at the Oriental Institute April 8–9, 2011. The purpose of the conference was to analyze the cases of and reasons for mutilation of texts and images in Near Eastern antiquity. Destruction of images and texts has a universal character; it is inherent in various societies and periods of human history. Together with the mutilation of human beings, it was a widespread and highly significant phenomenon in the ancient Near East. However, the goals meant to be realized by this process differed from those aimed at in other cultures. For example, iconoclasm of the French and Russian revolutions, as well as the Post-Soviet iconoclasm, did not have any religious purposes. Moreover, modern comprehension of iconoclasm is strongly influenced by its conception during the Reformation.
This volume explores iconoclasm and text destruction in ancient Near Eastern antiquity through examination of the anthropological, cultural, historical, and political aspects of these practices. Broad interdisciplinary comparison with similar phenomena in the other cultures and periods contribute to better understanding them.
Table of Contents:
Preface
Introduction
1. Iconoclasm and Text Destruction in the Ancient Near East (Natalie N. May, Oriental Institute of the University of Chicago)
Section one: "Iconoclasm Begins at Sumer" and Akkad
2. Mutilation of Text and Image in Early Sumerian Sources (Christopher Woods, Oriental Institute of the University of Chicago) 3. Gudea of Lagash: Iconoclasm or Tooth of Time? (Claudia E. Suter, University of Basel, Switzerland) 4. Damnatio Memoriae: The Old Akkadian Evidence for Destruction of Name and Destruction of Person (Joan G. Westenholz, Institute for the Study of the Ancient World, New York University)
Section Two: Iconoclasm as an Instrument of Politics
5. Death of Statues and Rebirth of Gods (Hanspeter Schaudig, University of Heidelberg) 6. Shared Fates: Gaza and Ekron as Examples for the Assyrian Religious Policy in the West (Angelika Berlejung, University of Leipzig and University of Stellenbosch) 7. Getting Smashed at the Victory Celebration, or What Happened to Esarhaddon's so-called Vassal Treaties and Why (JoAnn Scurlock, Elmhurst College)
Section Three: How the Images Die and Why?
8. Ali-talimu – What Can Be Learned from the Destruction of Figurative Complexes (Natalie N. May, Oriental Institute of the University of Chicago) 9. The Hypercoherent Icon: Knowledge, Rationalization, and Disenchantment at Nineveh (Seth Richardson, Oriental Institute of the University of Chicago)
Section Four: Iconoclasm and the Bible
10. What Can Go Wrong with an Idol? (Victor A. Hurowitz, Ben-Gurion University of the Negev, Beer-Sheva) 11. Text Destruction and Iconoclasm in the Hebrew Bible and the Ancient Near East (Nathaniel Levtow, The University of Montana)
Section five: Beyond Mesopotamia
12. Episodes of Iconoclasm in the Egyptian New Kingdom (Betsy M. Bryan, Johns Hopkins University)
13. Killing the Image, Killing the Essence: The Destruction of Text and Figures in Ancient Egyptian Thought, Ritual, and 'Ritualized History' (Robert K. Ritner, Oriental Institute of the University of Chicago)
14. Hittite Iconoclasm: Disconnecting the Icon, Disempowering the Referent (Petra M. Goedegebuure, Oriental Institute of the University of Chicago)
Section six: Classical Antiquity and Byzantium
15. Performing the Frontier: The Abduction and Destruction of Religious and Political Signifiers in Greco-Persian Conflicts (Silke Knippschild, University of Bristol)
16. Looking for Iconophobia and Iconoclasm in Late Antiquity and Byzantium (Robin Cormack, University of Cambridge and Dumbarton Oaks)
Section seven: Reformation and Modernity
17. Idolatry and Iconoclasm: Alien Religions and Reformation (Lee Palmer Wandel, University of Wisconsin-Madison)
18. Idolatry: Nietzsche, Blake, Poussin (W. J. T. Mitchell, The University of Chicago)
19. A Partially Re-cut Relief from Khorsabad (Eleanor Guralnick, Chicago, Illinois)
Oriental Institute Seminars 8
Chicago: The Oriental Institute, 2012
ISBN-13: 978-1-885923-90-5
Pp. xvi + 528; 152 illustrations

$29.95