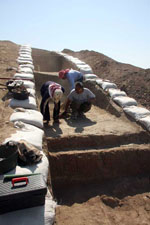 The joint Syrian-American excavations at Tell Zeidan are exploring the roots of urbanism in Mesopotamia during the Ubaid period, ca. 5300 BC. The enigmatic Ubaid period (6th-5th millennia BC) saw the first development of widespread irrigation agriculture, centralized temples, powerful political leaders, and the first emergence of social inequality as communities became divided into wealthy elites and poorer commoners. This was the time when people first invented the technology of metallurgy - the "Chalcolithic" (or "Copper-Stone") age.
Learn about the newest discoveries at Tell Zeidan
Located at the crossroads of two major trade routes in the rich bottomlands of the Euphrates river valley, Tell Zeidan is one of the largest known Ubaid temple towns. Because the site was abandoned in 4000 BC, the prehistoric strata of the site are immediately accessible beneath the modern day ground surface instead of being buried beneath meters of deposits from later occupation periods. This means that for the first time, archaeologists can excavate broad areas of an Ubaid temple-town to understand how a proto-urban community actually functioned in the 6th-5th millennia BC.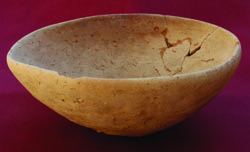 Excavations at Tell Zeidan started in 2008, with Dr. Gil Stein representing the Oriental Institute. In the team's two field seasons so far, important evidence for monumental architecture, ancient copper working, long distance trade in luxury goods, and the beginnings of leadership and administration have been uncovered. Dr. Stein hopes to excavate at Tell Zeidan for twelve field seasons to expose the full range of neighborhoods, activities, and both public and domestic architecture at this 12.5 hectare (31 acre) town. A crucial element in the Oriental Institute's long term plans for fieldwork is the construction of a dig house near Tell Zeidan to provide dormitory, laboratory, and storage space for the project as the expedition moves forward in its exploration of the site.
Articles
Annual Reports
---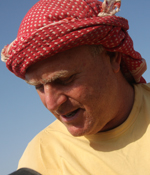 Gil J. Stein is the former Director of the Oriental Institute and Professor of Near Eastern Archaeology at the University of Chicago. He received his BA from Yale University in 1978 and his PhD in Anthropology from the University of Pennsylvania in 1988. Gil's research focuses on the development of early urban civilizations in the Near East, economic systems, and the archaeology of ancient colonies, about which he has written over 40 journal articles, book chapters, and reviews.
---
To schedule your five-year pledge commitment, call the Director of Development, at 773.702.5062, or send an email to: oi-development@uchicago.edu.