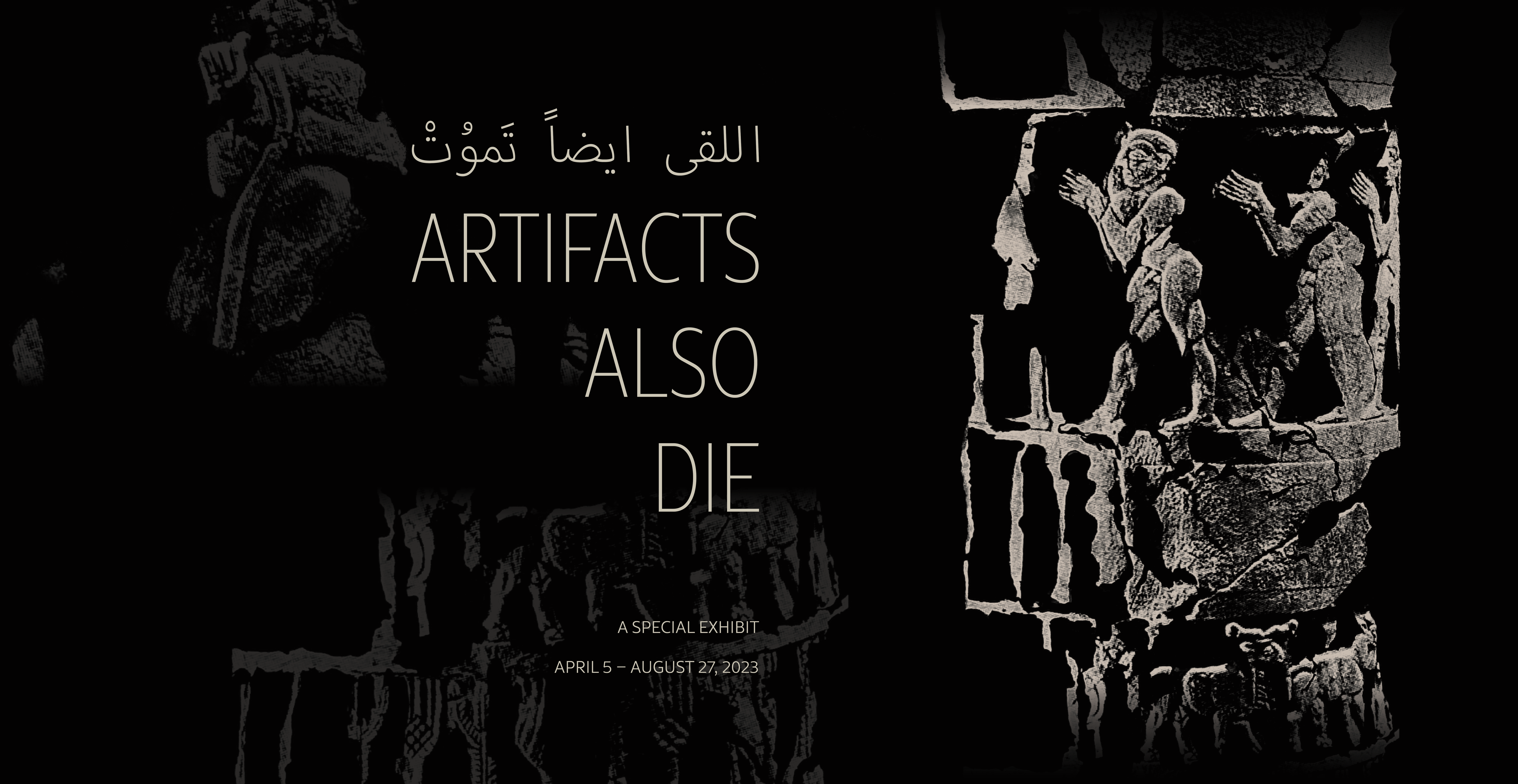 A Special Exhibition at ISAC Museum
April 5–August 27, 2023
This exhibition is part of the ongoing research project Ruins, Rubble, and Renewal: Co-existent Ruins—Exploring Iraq's Mesopotamian Past through Contemporary Art. This long term, interdisciplinary, expanded-media, and collaborative project seeks to address how it might be possible to have renewed engagements with four ancient Mesopotamian heritage sites (Babylon, Nimrud, Nuffar, and Ur), as well as the Iraq Museum in Baghdad, by local Iraqi artists in post-conflict Iraq. These sites, while still providing security guards and space for international archaeological research, have become derelict during the recent traumatic wars and conflicts. The project has the specific aim of exploring the critical question of how contemporary collaborative art projects conducted at these key archaeological sites can enable a renewed engagement with this ancient heritage and history. This project explores the capacity for a form of artistic research that attends to political and social context, and a new aesthetic where the heritage of ancient Mesopotamia—a region known as ''the cradle of civilization"—is reclaimed for Iraq's current traumatic identity, and for its people's future.
The project is led by Iraqi-British artist and academic Hanaa Malallah, who has lived in London since 2007 and works in collaboration with the following Iraqi artists at specific ancient sites inside Iraq:
The Ziggurat at Ancient Nippur/Nuffar/Al-Qadisiyah. With Fatimah Jawdet.
The Ziggurat at Ancient Ur/Tell al-Muqayyar/Dhi Qar. With Reyah Abd Al-Redah.
The Ruins of Ancient Babylon/HIllah/Babil. With Mohammed Abd Alwasi.
Kalhu/Nimrud/Nineveh. With Rozghar Mustafa.
Iraq Museum, Baghdad. With Betoul Mahdey.
FROM THE EXHIBITION
Our past is real and exists virtually alongside the present. It is our past from which we emerge. Our artistic explorations therefore allow another relation to time, one in which we can imagine a future in which our past can always intervene and mobilize us. Our Mesopotamian ruins now allow us to time travel and imagine different futures.
Hanaa Malallah
Project Founder/Research Director: Dr. Hanaa Malallah
Project Partner: Dr. Mo Throp
Project Team:
Archaeological Adviser: Prof. Zainab Bahrani    
Researcher: Annie Webster
Iraqi Artists: Fatimah Jawdet, Reya Abd Al-Redah, Rozghar Mustafa, Betoul Mahdey, Mohammed Abd Alwasi
Exhibition Curator: Dr. Kiersten Neumann
Press Release
Exhibition Materials
Exhibition Programming
Visit the Exhibition
Related Content
Media Coverage
---
This exhibition is supported by ISAC Museum Visitors and ISAC Members, and is organized by the ISAC Museum: 
Susan Allison, Rob Bain, Laura D'Alessandro, Anne Flannery, Marc Maillot, Helen McDonald, Kiersten Neumann, Josh Tulisiak, Alison Whyte.
With contributions by Augusta McMahon, ISAC Professor of Mesopotamian Archaeology and Director of the ISAC's Nippur Expedition. 
The replica fragments of the Warka Vase were printed by Stratasys and the University of Chicago Materials Research Science and Engineering Center, supported by the National Science Foundation under award number DMR-2011854.