The ISAC Museum Archives is the official repository for documentation related to the ISAC's administration, expeditions, photography, faculty, and staff. It is the mission of the Museum Archives to perform curatorial and information services pertaining to these collections. These services include conservation and research access including provenance, information requests, and outreach. The Museum Archives primary collections consist of the following:
Correspondence of the Director's office begining with James Henry Breasted
Papers of ISAC faculty and staff
Field records of ISAC's expeditions
Curatorial records and correspondence of the museum
Photographic records, comprised of over 100,000 negatives, prints, and slides
Further information can be found on the Photographic Archives page.
For research requests, begin your inquiry by searching the electronic records of the ISAC Museum Archives. These are available through the public Search Our Collections page, where the ongoing and growing catalog of the Museum Archives resides. This may assist in narrowing your request. 
The archives are open Monday – Friday from 9:30 – 4:30pm. Please visit our Access the Collections page to arrange a Research Visit.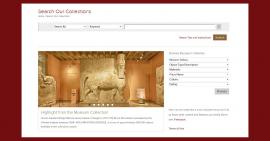 Browse over eighty thousand entries for cataloged Museum Archives materials.