---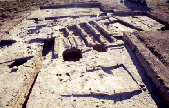 The 1998 Season
The 1996 Season
Tell Kurdu, located in the central part of the Amuq Valley, is one of the primary Chalcolithic (fifth-millennium BC) sites in the region. Ceramics and other artifacts from the site are associated with Ubaid-related assemblages, indicating relationships to Mesopotamia and the Tigris-Euphrates basin sites, to the east in Syria. The Ubaid period represents the foreshadowing of the development of complex state societies and urbanization in the Near East. The goal of the project is to document the transformation of relationships from a prevailing pattern of strong local cultural expressions at Tell Kurdu (and perhaps the rest of the Amuq Valley) to one with strong Ubaid relationships. The nature of these Mesopotamia- or Syria-related cultures will be a central focus of our future investigations.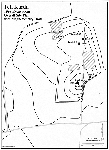 Another aim of the Tell Kurdu project will be to enhance the ceramic chronology of the Chalcolithic period. The site was briefly excavated in 1938 by Robert Braidwood, however because of the short two-week time limit, the fifth millennium was poorly defined. Nonetheless, the Amuq sequence remains one of the primary ceramic sequences used throughout the Near East, and a revision could have profound effects on the chronology of many surrounding regions.
The Ubaid period is a formative time on the road towards urbanism and state societies, yet very little is known of the architecture relating to this period, since at many major sites Ubaid levels are often buried deeply beneath later levels. Our renewed investigations at Tell Kurdu promise to allow broad horizontal exposures to reveal entire architectural plans for the Ubaid period since there are no later overlaying strata. Exposures of substantial architectural remains began in 1998, and ongoing excavations at the site promise continued success.