RECENT WORK ON THE GIZA PLATEAU COMPUTER MODEL (1997-1998)
TOWARDS A VIRTUAL GIZA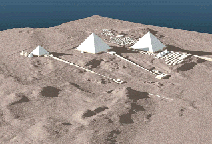 Peggy M. Sanders
Archaeological Graphic Services
This update focuses on the architectural components of the Giza pyramids. Peggy Sanders, an independent computer graphics specialist with Archaeological Graphics Services, continues to build the three-dimensional model of the Giza Plateau and its architecture. Since February 1997, the model is being constructed on a Dell OptiPlex GXpro, 200MHz with 128 MB RAM, using AutoCAD Release 14.
---
The underlying data for the Giza Plateau model are not available to the public at this time. When the basic model is finished we will determine how and to whom the model will be made available.
---
Construction of the Giza model continues under the direction of Dr. Mark Lehner. At the Oriental Institute periodically as a visiting professor, Dr. Lehner now heads up AERA, Ancient Egypt Research Associates, based in Boston, Massachusetts. Among its many goals is an interactive model of the Giza plateau.
One by one, each of the architectural models is being created with accurate, three-dimensional details from published maps, survey, and excavation reports. Models have now been completed for the following monuments: Khafre Mortuary Temple, Khafre Valley Temple, the Sphinx Temple; Menkaure Mortuary Temple, Menkaure Valley Temple; the interior chambers of the Khafre and Menkaure pyramids, and the interior chambers and temples of the Queens' pyramids for both the Khafre and Menkaure pyramids.
Future Endeavors
When all of the architectural components are complete, we will begin texture mapping of appropriate materials to various surfaces in the model, and superimpose scanned images of wall reliefs and inscriptions onto the appropriate surfaces of the Giza monuments. Modeling and rendering software will be used to create "walk-through" sequences. We hope the analytical and educational potential of this database will eventually result in a superior product.
Questions concerning the development of the Giza Plateau computer model should be addressed to:
John C. Sanders, Head
Oriental Institute Computer Laboratory
University of Chicago
1155 East 58th Street, Chicago, IL 60637 USA
(773) 702-0989
(773) 702-9853 fax