---
INTRODUCTION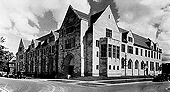 Tell Yaqush is an Early Bronze Age site located in the upper Jordan Valley of Israel. The project, begun in 1989 under the direction of Douglas Esse, Assistant Professor of Archaeology, coordinates the excavation and study of this 5,000 year old village dating from the time of the earliest cities.
Excavations at the site of were cut short by the untimely death of the director in 1992.
Large-scale excavations by the Oriental Institute were restarted in 2000 under the direction of David Schloen, Associate Professor of Archaeology.
Annual Reports