AS 12. Lamentation Over the Destruction of Ur Samuel N. Kramer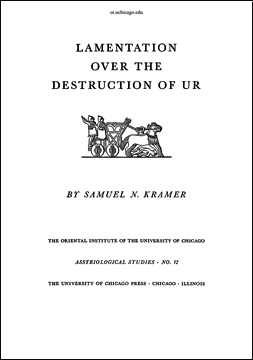 This volume consists of eleven songs and 436 lines, which was both composed and inscribed some time during the Isin-Larsa-Babylon I period. The translation provided in the volume is reasonably certain and relatively free from obscurities.
The manuscript of the Lamentation over the Destruction of Ur, based on the published texts then available, was completed early in 1937. In June of that year, however, with the aid of a fellowship award, the author left for Istanbul to study and copy a part of the collection of Sumerian "literary" texts from Nippur in its Museum of the Ancient Orient. In January 1940, he returned to the Oriental Institute and devoted several months to a thorough revising of the first manuscript with the aid of the collations and the new material. The revised study was completed in May 1940.
Assyriological Studies 12
Chicago: University of Chicago Press, 1940
Pp. xii + 97; 4 plates

Out of Print