MAD 5. Sargonic Texts in the Ashmolean Museum, Oxford I. J. Gelb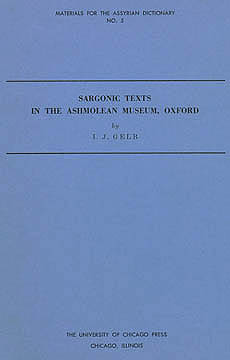 Purchase Download Terms of Use
This volume presents transliterations of texts in the Ashmolean Museum, most of which are from Kish and Umm-el-Jir, near Kish. A few texts of unknown origin have also been included. The majority of these tablets are standard administrative texts such as are found in other great collections of Sargonic texts from Gasur, the Diyala region, Lagash, and Susa. A small but important group of texts consists of contracts or memos concerning contractual agreements. Other types of texts are also represented, including letters, orders, school exercises, and one incantation. This is the first collection of Sargonic texts from northern Babylonia. One of the most important contributions of the Kish and Umm-el-Jir texts is the light they shed on the geography and ethno-linguistic background of Babylonia; forty geographic names are mentioned, the most common being Mugdan, which may represent the ancient name of Umm-el-Jir.
Indices of proper names and a catalogue of texts are included. One hundred and thirteen tablets are presented in photographic reproduction.
Materials for the Assyrian Dictionary 5
Chicago: The University of Chicago Press, 1970
ISBN: 978-0-22-662309-2
Pp. xxx + 150; 46 plates
Paperback 6 x 9 in / 16 x 23 cm

$15.00