Ancient Mesopotamia: Portrait of a Dead Civilization A. Leo Oppenheim Revised edition completed by Erica Reiner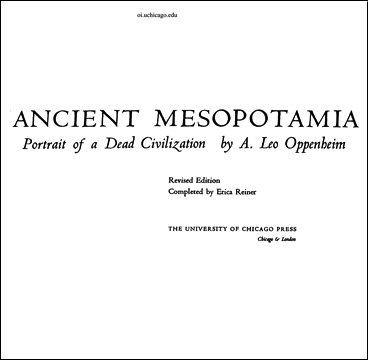 Since its first publication in 1964, Ancient Mesopotamia has remained the most distinguished presentation of the civilization of Babylonia and Assyria. As a distinguished scholar and linguist who spent more than thirty years studying the cuneiform tablets, Oppenheim offers reader a personal picture of the Mesopotamians of three-thousand years ago. In the first chapter, he provides an overview. In the second chapter, he examines the urbanism, political and social organization, and economical facts in ancient Mesopotamia. In chapter three, he discusses the differences between the "historical sources" and "literature" in Mesopotamia. In the fourth chapter he reveals the ancient Mesopotamians' relations with their gods such as how Mesopotamians fed their gods. He also deals with Mesopotamian psychology and arts. In the last two chapters he discusses the literature, medicine, and science in Mesopotamia.
At the time of his death in 1974, Oppenheim had incorporated about half the material that he intended to include in the revision of the volume. The remaining material was sorted and marked for insertion at the proper places. Thus, this revised edition incorporates the new information we possess on Mesopotamian civilization – it is a compendium both of the author's insights and of the vast amount of material that has become available since the first edition. In this way Ancient Mesopotamia can continue to serve as an up-to-date research tool for students and scholars alike.
Chicago: University of Chicago Press, 1964, revised in 1977
Pp. xvi + 445; 15 plates, 3 maps

Out of Print