Old Babylonian Contracts From Nippur: Selected Texts From the University Museum University of Pennsylvania Catalogue by Elizabeth C. Stone Photos by Paul E. Zimansky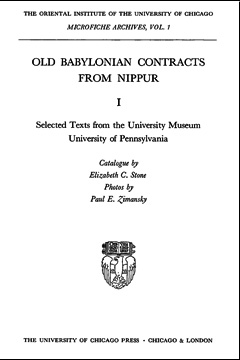 The Old Babylonian contracts found at Nippur during the 1888-1901 excavations of the University of Pennsylvania Expedition are housed in the Archeological Museum in Istanbul, in the Hilprecht Collection in Jena, and in the University Museum in Philadelphia. The present microfiche contains a series of 70 unpublished contracts in the Philadelphia collection. A second microfiche will include the rest of the Philadelphia contracts and some related legal texts.
The catalogue gives first the dated texts (Nos. 1-32) in chronological order. These are followed by the undated tablets and fragments arranged roughly according to the contents. In the dates the year is given first, followed by the month and the day, if preserved. The years whose sequence is unknown are designated either by lowercase letters or, if new, by X.
Oriental Institute of the University of Chicago Microfiche Archives, Volume 1
Chicago: University of Chicago Press, 1976
Pp. x + 6; 70 illustrations

Out of Print