Quseir al-Qadim 1980: Preliminary Report Donald Whitcomb & Janet Johnson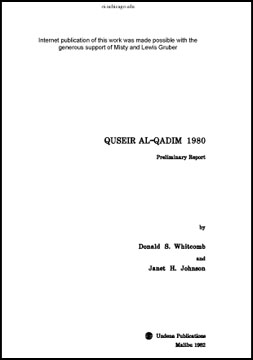 Quseir is a small modern port located on the Red Sea at the end of the Wadi Hammamat, the shortest wadi system which connects the major cities of Upper Egypt with the Red Sea. Both medieval Arabic texts and Greco-Roman texts refer to a small port in this area. The remains of this earlier port are preserved at Quseir al-Qadim, located on a small natural harbor (or mirsa, literally "anchorage") eight km. north of the modern town. The mound itself is approximately ten hectares in area.
The first season of excavations occurred in 1978. The second season of excavations at Quseir al-Qadim continued to focus on the economic organization of the port, introducing a resource base model. Since the regional survey around Quseir al-Qadim had indicated the absence of any possibility of agricultural hinterland and the results from the excavations had pointed to a considerable capital investment in the foundation and maintenance of the port (e.g., Roman dredging operations to keep the harbor open), Quseir al-Qadim was seen to take its locational rationale not from the existence of a market supply system of location based on settlement patterns and retail demands (as in locational models such as the Central Place model) but rather as a focus of communications located by convenience of external contacts, in this case propinquity to riverine urban centers and other Red Sea centers (e.g., Leuke Kome, Jedda, Aden). As more information is available especially documentary evidence, both internal, from excavations, and external, especially from the Nile valley), more sophisticated analyses of investment in production and transportation as comparative costs, or input-output models such as those utilized in locational geography, may be possible.
Quseir al-Qadim 1980: Preliminary Report
American Research Center in Egypt Reports 7
Malibu: Undena Publications, 1982
Pp. xi + 406; 29 figures, 74 plates, 5 tables