Sethos 1. The Temple of King Sethos I at Abydos, Volume I: The Chapels of Osiris, Isis and Horus Copied by Amice M. Calverley, with the assistance of Myrtle F. Broome, and edited by Alan H. Gardiner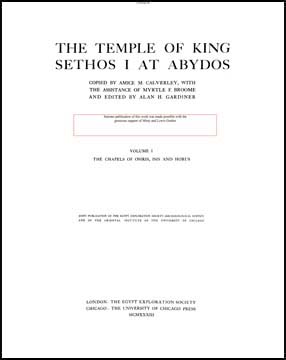 In the season of I925-1926 the Egypt Exploration Society, after excavating for some years exclusively at el-Amarna, decided to transfer its activities to Abydos, where the uncovering of the chapel of Osiris (the Osirion), interrupted by the war, urgently demanded completion. During a visit by John D. Rockefeller, Jr., in the company of James Henry Breasted a few years before the publication of this volume, the beauty of the painted reliefs, as well as the excellence of Miss Calverley's results, influenced Mr. Rockefeller to finance the publication of the four volumes in this set with as many color plates as possible, which are now available to all on the Internet thanks to the generosity of Misty and Lewis Gruber. Professor Breasted carried on the negotiations with Dr. Gardiner, and it was decided that the work should be a joint undertaking of the Egypt Exploration Society and the Oriental Institute of the University of Chicago. The four volumes contain brief introductions, notes, and 231 plates covering the seven chapels, Osiris complex, and second hypostyle hall of the Seti I Temple.
The first of the four volumes of this set publishes three of the seven chapels that jointly constitute the innermost sanctuary of the temple of Seti I. The three chapels published herein are those of Osiris, Isis, and Horus.
Sethos 1. The Temple of King Sethos I at Abydos, Volume I: The Chapels of Osiris, Isis and Horus
Joint Publication of the Egypt Exploration Society (Architectural Survey) and the Oriental Institute of the University of Chicago
London: The Egypt Exploration Society; Chicago: The Oriental Institute of the University of Chicago, 1933
Pp. xi; 40 pls.

Out of Print