OIC 7. Medinet Habu Studies 1928/29 Part 1. The Architectural Survey Uvo Hölscher Part 2. The Language of the Historical Texts Commemorating Ramses III John A. Wilson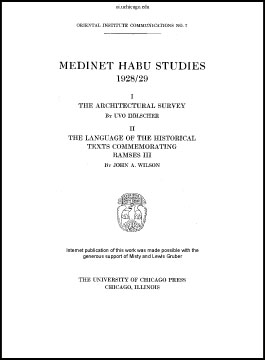 This second preliminary report on the work of the Oriental Institute at Medinet Habu furnishes brief reports on the second campaign of excavations by Uvo Hölscher and historical texts of Ramses III by John A. Wilson.
In the first campaign of excavation at Medinet Habu, during the season of 1927/28, the team had cleared within its huge rectangle a portion of the area which lay south of the great temple. In the second campaign (1928/29) the adjacent southeastern portion was excavated.
In the second part of this report John A. Wilson offers a colorful comparison of the writing styles of the scribes during the times of Thutmose III and Ramses III.
Oriental Institute Communications 7
Chicago: University of Chicago Press, 1930
Pp. ix + 33; 18 figures, 3 plates

Out of Print