OIMP 28. Catastrophe! The Looting and Destruction of Iraq's Past Geoff Emberling and Katharyn Hanson, eds.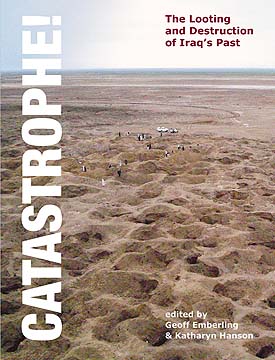 Purchase Download Terms of Use
With an introduction by Professor McGuire Gibson, this up-to-date account describes the state of the Iraq National Museum in Baghdad and chronicles the damage done to archaeological sites by illicit digging.
Contributors include Donny George, John M. Russell, Katharyn Hanson, Clemens Reichel, Elizabeth C. Stone, and Patty Gerstenblith. Published in conjunction with the exhibit of the same name opening at the Oriental Institute April 10, 2008, this book commemorates the fifth anniversary of the looting of the Iraq National Museum.
Table of Contents
Foreword. Gil J. Stein
Preface. Geoff Emberling
Map of Iraq
Time Line of Events
The Looting of the Iraq Museum in Context. McGuire Gibson, Oriental Institute, University of Chicago
The Looting of the Iraq Museum Complex. Donny George, Stony Brook University, with McGuire Gibson, Oriental Institute, University of Chicago
Efforts to Control Damage to Sites and Monuments. John M. Russell,Massachusetts College of Art and Design
Why Does Archaeological Context Matter? Katharyn Hanson, University of Chicago
Cataloging the Losses: The Oriental Institute's Iraq Museum Database Project. Clemens Reichel, Oriental Institute, University of Chicago
Archaeological Site Looting: The Destruction of Cultural Heritage in Southern Iraq. Elizabeth C. Stone, Stony Brook University
Legal Aspects of Controlling the International Market in Looted Antiquities: The Paradigm of Iraq. Patty Gerstenblith, DePaul University
Oriental Institute Museum Publications 28
Chicago: The Oriental Institute, 2008
ISBN: 978-1-885923-56-1
Pp. 88; 48 illustrations, most in color
Paperback 9 x 11.5 in

$22.95
➡ See museum registration information for the objects published in this volume