OIP 130. Chogha Mish, Volume II. The Development of a Prehistoric Regional Center in Lowland Susiana, Southwestern Iran: Final Report on the Last Six Seasons of Excavations, 1972–1978 Abbas Alizadeh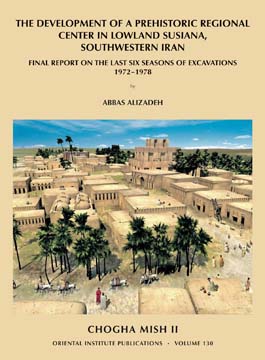 Purchase Download Terms of Use
The present publication is the final report on the eleven seasons of excavations at Chogha Mish. In addition to the materials and records from Chogha Mish, Alizadeh uses the data available from the excavations of the neighboring sites of Chogha Bonut and Boneh Fazl Ali to augment his reconstruction of Susiana prehistoric development. Together, these three sites cover a long period from ca. 7200 to 500 B.C.
While most researchers see the fourth millennium as a pivotal period in the development of state organizations in southwestern Iran as a result of intra-regional competition between various local polities, Alizadeh traces the onset of the conflict of interest between the settled agricultural communities of the lowlands and mobile pastoralists of the highlands to the fifth millennium b.c. In doing so, Alizadeh considers a much more substantial role for the ancient mobile pastoralists of the region, placing Chogha Mish in a much wider regional context and arguing that at the beginning of the fifth millennium b.c, as the local elite were rapidly developing, lowland Susiana shifted its orientation from Mesopotamia to highland Iran, where most of the material resources are located. He attributes this shift to the development of mobile pastoralism in highland Iran and considers the ancient mobile pastoralists as the agents of contact between the highlands and the lowlands.
A Microsoft Excel database of 31,143 faunal remains from the 1972-1978 seasons is also available for download.
Oriental Institute Publications 130
The Oriental Institute, 2008
ISBN-10: 1-885923-52-X
ISBN-13: 978-1-885923-52-3
Pp. xliv + 396; 99 figures, 31 plates, 14 tables; Database of Faunal Remains Available Online

$90.00