OIP 71. Coptic Ostraca from Medinet Habu Elizabeth Stefanski and Miriam Lichtheim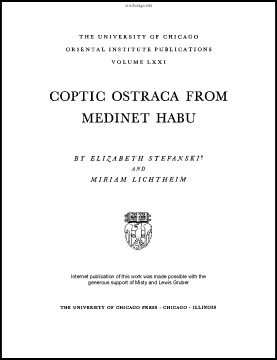 The 400 ostraca published in this volume were found in the 1929/30 season of the Oriental Institute's excavation of Medinet Habu. In general, most of the ostraca came from the central part of the Coptic town, the part which grew up in the ruins of the huge temple of Ramesses III. These ostraca, which date to the seventh and eighth centuries, constitute less than half of the total find; the remaining ones are small and badly preserved fragments which are not worth publishing.
The ostraca deal with the affairs of the townspeople; only a few concern the desert monks and monasteries. The townspeople were primarily engaged in farming, and their business affairs as revealed by the texts center on the buying, selling, borrowing, and lending of agricultural produce. Four main categories represented are: documents of private law, letters, lists and accounts, and tax receipts.
Oriental Institute Publications 71
Chicago: The University of Chicago Press, 1952
Pp. xi + 51; 1 table, 400 figures, 5 plates

Out of Print