OIP 125. Excavations at Tell es-Sweyhat, Syria, Volume 2: Archaeology of the Bronze Age, Hellenistic, and Roman Remains at an Ancient Town on the Euphrates River. Thomas A. Holland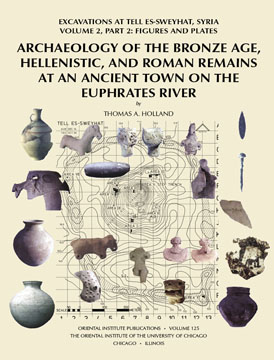 Purchase Download

Download PDF [text] | Download PDF [figures & plates] | Download PDF [Pocket Plan 1] | Download PDF [Pocket Plan 2] | Download PDF [Pocket Plan 3]
This large two-volume set (text and figures/plates) represents the second and final publication of the archaeological excavations conducted by Thomas A. Holland at Tell es-Sweyhat in the Tabqa Dam region in the Jazirah of the upper Euphrates River in Syria.
The first volume already published, entitled On the Margin of the Euphrates (OIP 124; 2004), by Tony J. Wilkinson, presented the settlement patterns and the land use at Tell es-Sweyhat and in the upper Lake Assad area of Syria.
The text volume, part 1, assimilates and clarifies all of the articles and preliminary reports concerned with the site from 1974, "Tell Soueihat" (see Bounni 1974a:99–102) until 2004, "Tall as-Suwayhat" (see Anastasio, Lebeau, and Sauvage, eds. 2004:315). The figure and plate volume, part 2, contains 541 line illustrations of pottery, small finds, plans, and sections of trenches and 132 halftone plates of the trenches in all areas and operations that were excavated on the main tell, the lower town, and on the defensive rampart surrounding the whole site, as well as a photographic record of the most distinctive pottery and small finds.
The three main occupational remains excavated, the Bronze Age, the Hellenistic period, and the Roman period are discussed in detail in the text volume along with external parallels for all of the finds. The five appendices are a "List of Loci and Phases," a "List of Finds and Distribution," the "Distribution of Shells and Snails," the "Correlation of Faunal Remains," a "List of Wall Painting Fragments," and a study of "The Metal Finds."
Oriental Institute Publications 125
Chicago: The Oriental Institute, 2006
ISBN: 1-885923-33-3
Vol. 1: Pp. lx + 620; Vol. 2: Pp. xxix; 334 figures, 340 plates, 3 pocket plans
9 x 12 in; 23 x 30.5 cm

$185.00

(hardback)