OIP 84. Medinet Habu, Volume VI. The Temple Proper, Part II: The Re Chapel, the Royal Mortuary Complex, and Adjacent Rooms with Miscellaneous Material from the Pylons, the Forecourts, and the First Hypostyle Hall The Epigraphic Survey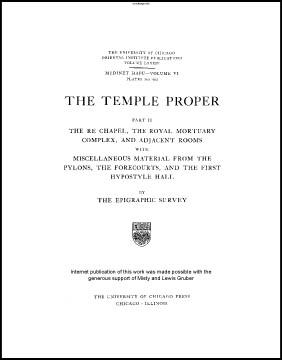 It was noted in the Preface to Volume V that each of the first four volumes contains scenes and inscriptions published together on the basis of subject matter, that is, the historical records, the temple calendar, and the festival scenes, but that the remainder of the reliefs would of necessity be presented on the basis of location, proceeding from wall to contiguous wall and from room to adjacent room in the complex of the Portico and the Temple Proper. However, in the present volume, as in Volume V, we also present scenes and inscriptions of a "marginal" nature, principally from the Second Court but also a few from the two pylons and the First Court, which were not included in the earlier volumes.
The present volume, therefore, although it bears the title "The Temple Proper, Part II," contains a large number of plates devoted to the Second Court, especially to the scenes on the shafts of the round columns on the south, north, and west (Portico) sides, the inscriptions on the bases, abaci, and architraves of all the columns and on the fronts of the square columns, and the long, often formal, inscriptions in large hieroglyphs which sometimes run the full length of the walls above and below the scenes.
This volume also contains drawings and photographs of reliefs on the walled but unroofed areas between the towers of both pylons and in the passageways within the pylons. These reliefs are presented immediately following the reliefs in the Re Chapel because a number of them relate to the worship of the sun-god Re in one or another of his forms at his rising and setting. The other reliefs from the towers, even though not related to the worship of Re, are presented with them simply on the basis of adjacent location.
Oriental Institute Publications 84
Chicago: The University of Chicago Press, 1963
Pp. xix; 1 plan, 120 plates

Out of Print