OIP 114. Nippur IV: The Early Neo-Babylonian Governor's Archive from Nippur S. W. Cole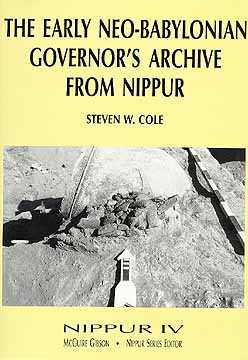 Purchase Download Terms of Use
One autumn day in 1973, at the Oriental Institute's excavations at Nippur in south central Iraq, a workman rising from eating his lunch in one of the site's trenches brushed the balk against which he had been sitting, revealing a number of tablets. These tablets proved to be part of the packing around a huge pottery jar containing the skeleton of a child. The remains of 128 inscribed clay tablets were found, some broken into fragments. The inscriptions turned out to be written in a previously unknown early Neo-Babylonian script dating back to the middle of the eighth century b.c., a virtual dark age in the history of southern Mesopotamia.
Included in this group of documents is an archive of 113 letters, the only known group of letters from Babylonia dated in the half millennium between 1225 and 725 BC. These unique texts, which the author has called the "Governor's Archive," represent the largest and most significant group of documents from Babylonia from this period. They are particularly important because they predate the letters sent to the kings of Assyria in Nineveh, and because they are the only known documents written by Babylonians to Babylonians during this entire 500 year period. They illuminate a new historical situation, and provide a rare view of the Babylonian countryside during a period of weak governmental control. They give a unique perspective on one town's relations with the surrounding tribal populations. The only comparable material comes from Mari a thousand years earlier.
The author presents copies, transliterations, and translations of all the documents, along with a lengthy introduction, catalogs, philological commentaries, exhaustive glossaries, and comprehensive indices. The book should prove valuable to a broad spectrum of scholars and students interested in the Middle East, including Assyriologists, Mesopotamian historians and archaeologists, Aramaicists, economic historians, and scholars investigating the tribal peoples of the Middle East and Arabia.
Oriental Institute Publications 114
Chicago: The Oriental Institute, 1996
ISBN 1-885923-03-1
Pp. xliv + 458, 3 figures, 128 text copies
Clothbound 9 x 11.75 in / 23 x 30 cm

$70.00