OIP 59.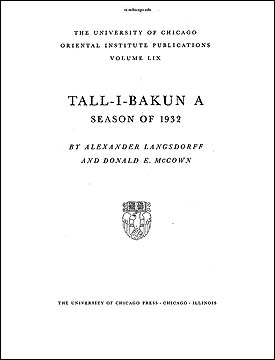 Tall-i-Bakun A: Season of 1932

Alexander Langsdorff and Donald E. McCown.
Alexander Langsdorff began the Oriental Institute's excavation of Tall-i-Bakun A on March 25, 1932, with a crew of fifty-six workmen and two foremen. The whole mound was surveyed and staked off in 5 meter squares. This volume provides the results of the excavations.
Oriental Institute Publications 59
Chicago: The University of Chicago Press, 1942
Pp. xi + 82; 19 figures; 1 table; 85 plates
Hardbound 9 x 12 inches

Out of Print