OIP 60.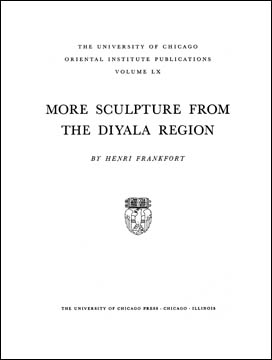 More Sculpture from the Diyala Region

Henri Frankfort.
As the title indicates, this volume is a sequel to Sculpture of the Third Millennium B.C. from Tell Asmar and Khafajah (OIP 44). The typescript of the earlier volume was completed in 1935, when the fieldwork was still in full swing. It probably gained in clarity as a result of that circumstance, for subsequent discoveries have, as always, added complexity to the picture. Thus, while nothing needs to be added to the description of the formal principles of Mesopotamian sculpture, the first sketch of its early development appears somewhat simplistic, and the publication of this additional material offers a welcome opportunity for elaboration.
Finally,a small number of Akkadian and later works that were found by Seton Lloyd at Tell Asmar and by Thorkild Jacobsen at Ishchali, together with a fine probably Akkadian head from Bismaya, hitherto inadequately published, and two most remarkable bronze statuettes of a four-faced god and goddess, were added.
Oriental Institute Publications 60
Chicago: The University of Chicago Press, 1943
Pp. xiii + 48; frontispiece; 6 figures; 1 map; 1 table; 95 plates
Hardbound 9 x 12 inches

Out of Print