OIP 112. Reliefs and Inscriptions at Luxor Temple, Volume 1: The Festival Procession of Opet in the Colonnade Hall The Epigraphic Survey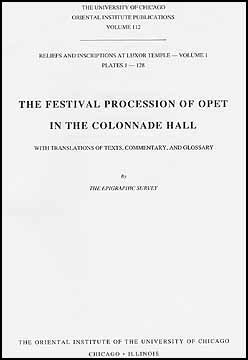 Purchase Download Terms of Use
This latest in the series of publications of the field work of the Epigraphic Survey is certainly the crowning achievement of the seventy years the Oriental Institute's artists and epigraphers have labored at the walls of the temples and tombs of Luxor, recording the inscriptions and reliefs in facsimile for posterity. Not only is The Festival Procession of Opet the Survey's largest volume to date, it is also the most sophisticated in terms of the finesse of the rendering of the facsimile drawings with indications of the different types of man-made and environmental damage suffered by the complicated surviving Luxor Temple Colonnade Hall reliefs indicated in minute details - which must have taken countless hours of inking by the many Survey artists (eighteen by actual count) who worked six months in the field each year recording the Opet Festival reliefs from 1974 to 1992.
These marvelous large drawings (each a work of art in its own right), along with the accompanying text volume (with list of plates, preface, transliterations and translations of the texts, commentary, and glossary) make the (cost) of this achievement fully justified. Any serious student of the end of the Eighteenth Dynasty who orders [this volume] sight unseen will not be disappointed when it arrives. [From a book brief in KMT 5:4 (1994/95) 86].
Oriental Institute Publications 112
Chicago: The Oriental Institute, 1994
ISBN 978-0-91-898694-8
Pp. xxvi + 60 in booklet; 128 plates
Large portfolio 14.5 x 18.5 in / 37 x 47 cm

$350.00