OIP 7. Researches in Anatolia 3. The Alishar Hüyük Season of 1927, Part 2 Hans Henning von der Osten and Erich F. Schmidt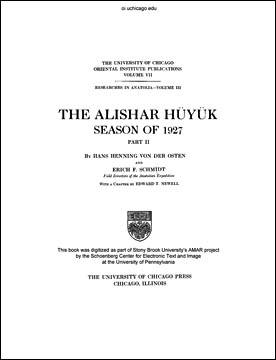 This volume represents the second part of the report on the Oriental Institute's excavations at Alishar Hüyük in 1927. During 1927 the excavators cataloged and registered about 3,300 objects, the majority of which were pots or potsherds. All the important small objects are enumerated here, though not all illustrated. Only typical specimens of the more common objects are listed and pictured.
The book is divided into five chapters: 1) Disposal of the Dead, 2) Figurines, 3) Seals and Impressions, 4) Coins, and 5) Other Small Objects. An Index of Field Numbers appears at the end.
This book was digitized as part of Stony Brook University's AMAR project by the Schoenberg Center for Electronic Text and Image at the University of Pennsylvania.
Oriental Institute Publications 7
Chicago: The University of Chicago Press, 1932
pp. xii + 134; frontispiece, 106 figures

Out of Print