OIP 20. Researches in Anatolia 5. The Alishar Hüyük Season of 1928 and 1929, Part 2 Erich F. Schmidt with a chapter by Wilton Marion Krogman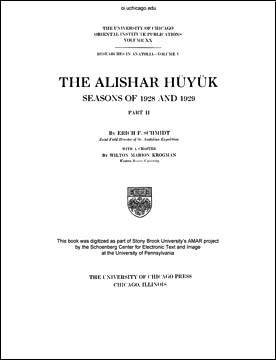 The material presented in this publication is based mainly on the results of excavation seasons 1928-29 at Alishar Hüyük in central Turkey. This includes the objects from Strata V (post-Hittite), VI (Hellenistic, Roman, Byzantine), and VII (Seljuk and Osmanli), as well as a discussion of cranial types found in the graves of all strata.
This book was digitized as part of Stony Brook University's AMAR project by the Schoenberg Center for Electronic Text and Image at the University of Pennsylvania.
Oriental Institute Publications 20
Chicago: The University of Chicago Press, 1933
pp. xvii + 148; 4 tables, frontispiece, 198 figures, 11 plates

Out of Print