SAOC 5. A New Inscription of Xerxes from Persepolis Ernst E. Herzfeld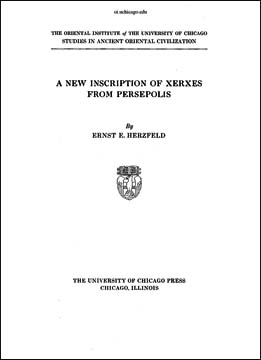 The discovery and publication of this important royal record of the Persian kings mark the entrance of the Oriental Institute upon a new field of investigation. The place of the Persian Highlands in the development of civilization is a very important one.
The foundation document which Herzfeld discovered last year, and which is herewith presented in text and translation, belongs to the great creative age of Persian civilization, which represented the sunset splendor of oriental civilization.
Studies in Ancient Oriental Civilization 5
Chicago: The University of Chicago Press, 1932
Pp. viii + 14; 5 figures
Paperbound 6.75 x 9.5 in / 17 x 24 cm

Out of Print