SAOC 60. Studies in Semitic and Afroasiatic Linguistics Presented to Gene B. Gragg. Cynthia L. Miller, ed.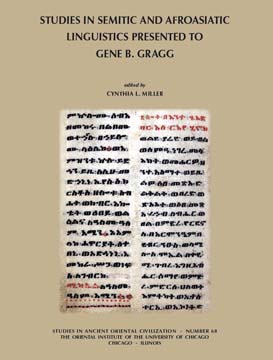 Purchase Download Terms of Use
Two Afroasiatic papers consider different aspects of connections between various branches of the Afroasiatic family. Lionel Bender, reconsiders the ratios of reconstructed forms derived from common Afroasiatic (or, Afrasian) terms in four language branches. Alexander Militarev presents a number of Akkadian-Egyptian lexical matches, which he considers to be the result of contact rather than a common Afroasiatic origin.
Another pair of papers focuses on comparative Semitics. David Testen examines the origins the Akkadian vetitive on the basis of West Semitic analogues. Rebecca Hasselbach reconsiders the evidence for plural morphemes in the Semitic languages and proposes a new explanation for the fact that plural morphemes are diptotic rather than triptotic.
One paper, by Joseph Daniels, focuses on South Semitic by considering the range of syntactic constructions involving injunctive *la in Epigraphic South Arabic in comparison to jussive constructions in other South Semitic languages.
Three papers examine aspects of Biblical Hebrew; two use linguistic theory and one uses computational linguistics. Stuart Creason looks at the lexical semantics of the verb PQD and proposes a single meaning for the verb with additional aspects of meaning contributed by the direct object and subject of the verb in various contexts. Cynthia L. Miller provides a linguistic account of the syntactic constraints on verbal ellipsis in Biblical Hebrew with attention to how poetry relaxes three of the constraints on verbal ellipsis that are found in prose. Richard L. Goerwitz describes a computer program that checks the pointing and accents of Tiberian biblical texts.
Three papers examine Aramaic. W. Randall Garr examines the phonological phenomenon of prenasalization in Imperial Aramaic, Middle Aramaic, and Mandaic within a dialectal and historical framework. The other two papers draw upon fieldwork in modern Aramaic dialects. Samuel Ethan Fox provides a traditional text in the Neo-Aramaic dialect of Bohtan and a grammatical sketch of its phonology and morphology. Robert D. Hoberman argues that prosodic structure rather than root structure played a crucial role in a sound change in Northeastern Neo-Aramaic dialects.
Two papers consider aspects of Semitic writing systems. Dennis Pardee considers the invention of the Ugaritic cuneiform alphabet in the context of other (linear) alphabetic writing systems. Peter T. Daniels considers the diffusion of West Semitic writing to Eurasia and beyond.
Studies in Ancient Oriental Civilization 60
Chicago: The Oriental Institute, 2007
ISBN 978-1-885923-41-7, 1-885923-41-4
Pp. xxviii + 220; frontispiece (Gene B. Gragg), 16 figures, 2 maps, 9 tables
Paperback; 9.00 x 11.75 inches

$60.00
Table of Contents
Foreword. Gil J. Stein
Preface. Cynthia L. Miller
The Research of Gene B. Gragg. Cynthia L. Miller
Bibliography of the Publications and Communications of Gene B. Gragg. Charles E. Jones
Gene B. Gragg as a Teacher. Robert D. Hoberman
Dissertation Committee Service. Gene B. Gragg
The Afrasian Lexicon Reconsidered. M. Lionel Bender
PQD Revisited. Stuart Creason
'May the Gods Preserve You!': The Variability of Injunctive *la in Epigraphic South Arabian and Its Relation to Jussive Forms within South Semitic. Joseph L. Daniels II
Littera ex occidente: Toward a Functional History of Writing. Peter T. Daniels
The Story of Mem u Zine in the Neo-Aramaic Dialect of Bohtan. Samuel Ethan Fox
Prenasalization in Aramaic. W. Randall Garr
A New Masoretic "Spell Checker," or, a Practical Method for Checking the Accentual Structure and Integrity of Tiberian-Pointed Biblical Texts. Richard L. Goerwitz III
External Plural Markers in Semitic: A New Assessment. Rebecca Hasselbach
Semitic Triradicality or Prosodic Minimality? Evidence from Sound Change. Robert D. Hoberman
Akkadian-Egyptian Lexical Matches. Alexander Militarev
Constraints on Ellipsis in Biblical Hebrew. Cynthia L. Miller
The Ugaritic Alphabetic Cuneiform Writing System in the Context of Other Alphabetic Systems. Dennis Pardee
West Semitic Perspectives on the Akkadian Vetitive. David Testen