SAOC 63. Beyond the Ubaid: Transformation and Integration in the Late Prehistoric Societies of the Middle East Robert A. Carter and Graham Philip, eds.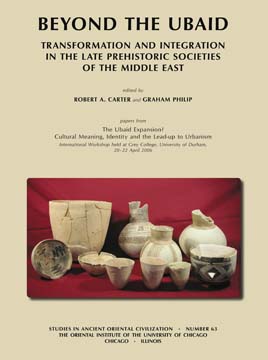 Purchase Download Terms of Use
Originally coined to signify a style of pottery in southern Iraq, and by extension an associated people and a chronological period, the term "Ubaid" is now often used loosely to denote a vast Near Eastern interaction zone, characterized by similarities in material culture, particularly ceramic styles, which existed during the sixth and fifth millennia B.C. This zone extended over 2,000 km from the shores of the Mediterranean to the Straits of Hormuz, including parts of Anatolia and perhaps even the Caucasus. The volume contains twenty-three papers that explore what the "Ubaid" is, how it is identified, and how the Ubaid in one location compares to another in a distant location.
The papers are the result of The Ubaid Expansion? Cultural Meaning, Identity and the Lead-up to Urbanism, an International Workshop held at Grey College, University of Durham, 20-22 April 2006.
Studies in Ancient Oriental Civilization 63
Chicago: The Oriental Institute of the University of Chicago, 2010
ISBN-13: 978-1-885923-66-0
Pp. ix + 396; 147 figures, 11 tables

$42.95
Part 1: Theoretical Frameworks
Deconstructing the Ubaid. Robert A. Carter and Graham Philip
Local Identities and Interaction Spheres: Modeling Regional Variation in the Ubaid Horizon. Gil J. Stein
More Thoughts on the Ubaid Period. Joan Oates
The Halaf-Ubaid Transition: A Transformation without a Center? Philip Karsgaard
Questioning the Halaf-Ubaid Transition. Stuart Campbell and Alexandra Fletcher
The Dead Hand of Deimel. McGuire Gibson
Part 2: Identity and Material Culture
Practices of Daily Life in Fifth-millennium B.C. Iran and Mesopotamia. Susan Pollock
Figuring Out Identity: The Body and Identity in the Ubaid. Karina Croucher
Ubaid Headshaping: Negotiations of Identity through Physical Appearance? Kirsi O. Lorentz
A Snake in the Grass: Reassessing the Ever-intriguing Ophidian Figurines. Aurelie Daems
The Term "Hajji Muhammad": A Re-evaluation. Harriet Crawford
The Development of Wool Exploitation in Ubaid-period Settlements of North Mesopotamia. Hiroshi Sudo
Ubaid Lithics Revisited: Their Significance for the Interpretation of Ubaid Society. Elizabeth Healey
Buttress-recess Architecture and Status Symbolism in the Ubaid Period. Uwe Sievertsen
Part 3: Comparative Analyses and Regional Perspectives
A Monumental Failure: The Collapse of Susa. Frank Hole
Ubaid-Related-Related? The "Black-on-buff" Ceramic Traditions of Highland Southwest Iran. Lloyd Weeks, Cameron A. Petrie, and Daniel T. Potts
Bakun-period Sites in Darre-ye Bolaghi, Fars. Barbara Helwing and Mojgan Seyedin
The Emergence of Ubaid Styles at Tell Kurdu: A Local Perspective. Rana Özbal
An Aspect of the Ubaid Intrusion in the Syrian Upper Euphrates Valley. Yayoi Yamazaki
The Ubaid in the Balikh Valley, Northern Syria: Balikh Periods IV-V. Maria Giuseppina Trentin
Networks of Interregional Interaction during Mesopotamia's Ubaid Period. Bradley J. Parker
Exploring Social Organizational Aspects of the Ubaid Communities: A Case Study of Degirmentepe in Eastern Turkey. Bekir Gurdil
Godedzor, A Late Ubaid-related Settlement in the Southern Caucasus. Christine Chataigner, Pavel Avetisyan, Giulio Palumbi, and Hans-Peter Uerpmann