The James Henry Breasted Society is an exclusive membership level that attracts dedicated patrons and lifelong explorers. Breasted Society members gain unparalleled access to ISAC faculty, collections, and field work. Whether at a private dinner in the director's office or in the field on an international tour, Breasted Society members examine the ancient world through unique opportunities alongside likeminded associates. Your Breasted Society membership contributes to an annual renewable source of unrestricted funds that are allocated to our most pressing research projects.
Breasted Society Members enjoy private access to faculty led programming, dinners and receptions, and life enriching international travel opportunities.
$1,000 Patron / $2,500 Director's Circle / $5,000 Founder's Circle
Enjoy all the benefits of Associate Membership, as well as invitations to exclusive events (see below) and complimentary special exhibit catalog publications. 
Benefits
Invitations to exclusive Breasted Society events year-round
Access to Breasted Society Salon dinners with ISAC faculty and research staff
International travel opportunities accompanied by ISAC scholars
In-country travel opportunities
Library privileges in the Research Archives
Special pricing on ISAC Adult Education classes
Free and discounted admission to all ISAC programs
10% off in the Institute gift shop, the Suq, plus seasonal double or triple discounts
Free Audio Tour rentals
One free exhibit catalog per membership year
News & Notes, ISAC's quarterly online membership magazine
The Annual Report, a comprehensive review of all projects and departments at the ISAC
Reciprocal membership privileges at more than 650 museums nationwide through North American Reciprocal Museum (NARM) and Reciprocal Organization of Associated Museums (ROAM)
In addition to receiving these benefits, you'll be supporting all the work done at the Institute for the Study of Ancient Cultures, both onsite and in the field.
Matching Gifts
Will your company match your membership contribution? Contact us to find out how to double your support.
All Level 100% tax-deductible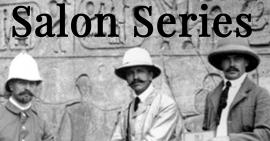 Celebrate our centennial year with our inaugural Salon Series and Graduate Student Brunch.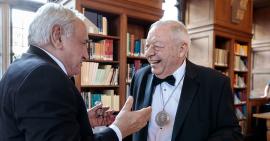 Explore selected past Breasted Society events…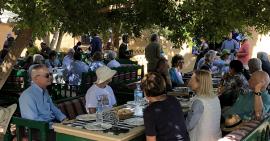 Breasted Society members receive exclusive opportunities to travel internationally with the OI.