Upcoming Events...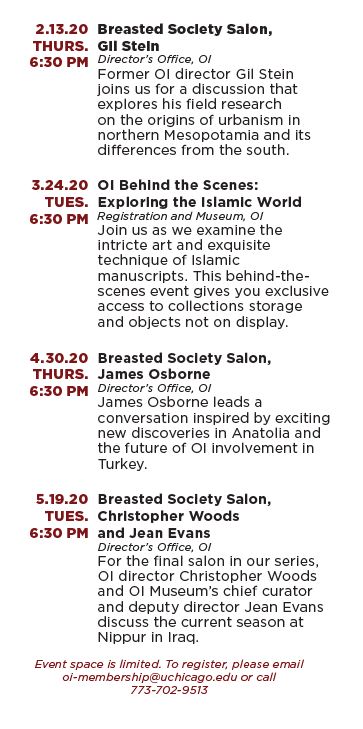 You are invited…
…to exclusive centennial year Breasted Society Events.
To commemorate 100 years of OI projects and research, we are excited to announce our inaugural Breasted Society Salon Series. Each salon takes place in the director's office, includes a light dinner, and offers Breasted Society Members the unique opportunity to spark meaningful discussions with world experts. During our centennial year, we focus on archaeology — the very intersection where the ancient world meets contemporary scholarship.
In addition to our Salon Series, please join us for the debut of our annual Graduate Student Breakfast. Be among the first to experience the work and research of the next generation of scholars during this intimate gathering.
11.9.18 Saturday, 9:00 AM
Graduate Student Breakfast
OI
Explore the future of research in the ancient Middle East with a breakfast celebrating the next generation of world scholars.
1.16.20 Thursday, 6:30 PM
Breasted Society Salon
David Schloen
Director's Office, OI
Join David Schloen, director of excavations at Tell Keisan in Israel and Zincirli in Turkey, for a discussion drawing on his career and future plans to explore the Phoenician world.
2.13.29 Thursday, 6:30 PM
Breasted Society Salon
Gil Stein
Director's Office, OI
Former OI director Gil Stein joins us for a discussion that explores his field research on the origins of urbanism in northern Mesopotamia and its differences from the south.
3.24.20 Tuesday, 6:30 PM
OI Behind the Scenes:
Exploring the Islamic World
Registration and Museum, OI
Join us as we examine the intricte art and exquisite technique of Islamic manuscripts. This behind-the- scenes event gives you exclusive access to collections storage and objects not on display.
4.30.20 Thursday, 6:30 PM
Breasted Society Salon
James Osborne
Director's Office, OI
James Osborne leads a conversation inspired by exciting new discoveries in Anatolia and the future of OI involvement in Turkey.
5.19.20 Tuesday, 6:30 PM
Breasted Society Salon
Christopher Woods and Jean Evans
Director's office, OI
For the final salon in our series, OI director Christopher Woods and OI Museum's chief curator and deputy director Jean Evans discuss the current season at Nippur in Iraq.
Event space is limited and open exclusively to Breasted Society Members. Please email oi-membership@uchicago.edu or call 773-702-9513 to register for any of these events.