OIP 106. The Great Hypostyle Hall at Karnak, Volume 1, Part 1: The Wall Reliefs Harold Hayden Nelson, and William J. Murnane, ed.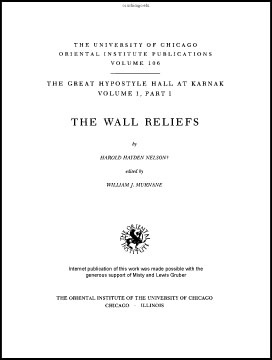 Download Terms of Use
This volume of plates of the drawings made of the reliefs on the walls of the Hypostyle Hall of the temple of Amun-Rea at Karnak is not only a welcome one for all Egyptologists, it is a restatement of the expertise of the draughtsman and artist Harold H. Nelson. While clearly not the 'finished product' one associates with the published volumes of the Epigraphic Survey of the University of Chicago, the drawings represent a fund of textual and iconographic information from one of the best-known monuments of ancient Egypt. The editor, William J. Murnane, has painstakingly studied the renderings made by Nelson and has done what amounts to a second collation of the texts, the resulting alterations of the drawings then being produced by W. Raymond Johnson, Egyptologist and artist on the survey. Dr. Murnane, Associate Director of the Epigraphic Survey of Chicago House, was well aware of the importance of making these reliefs and inscriptions available to the scholarly audience, since the surface of the temple walls, exposed to the elements of nature, were not improving with the passage of time. His securing of Nelson's reliable facsimile copies provided the means of making the material readily available. Further volumes are intended, including translations and comments, and inscriptions and reliefs on other architectural elements in the Hypostyle Hall (also based on Nelson's preliminary drawings).
The editor has included a concordance that coordinate the location number within the hall according to Nelson's Key Plans Showing Locations of Theban Temple Decorations, Oriental Institute Publications 56 (Chicago, 1941), with the plates in the present volume. There is a list of plates; then follow 257 renderings of the reliefs. Each plate is labeled with information derived from the scene and text. From plates 258 to 265 the editor presents schematic drawings of the reliefs on the walls, each of which is accompanied by a diagram coordinated not to Nelson's original key plans but to the plate numbers of the present volume.
It is commendable that Murnane has been able to compile and edit Nelson's preliminary drawings, considering the demanding work of the Epigraphic Survey, and the present volume easily does justice to the memory of an exceptional scholar and Egyptologist, Harold Hayden Nelson. Scholars should welcome this new addition to the field and look forward to seeing the companion volumes promised by the editor. [From a review by David P. Silverman in the Journal of Near Eastern Studies 45 (1986): 74-75.]
Oriental Institute Publications 106
Chicago: The Oriental Institute
ISBN 0-918986-30-3
Pp. xxv; 267 plates

Out of Print