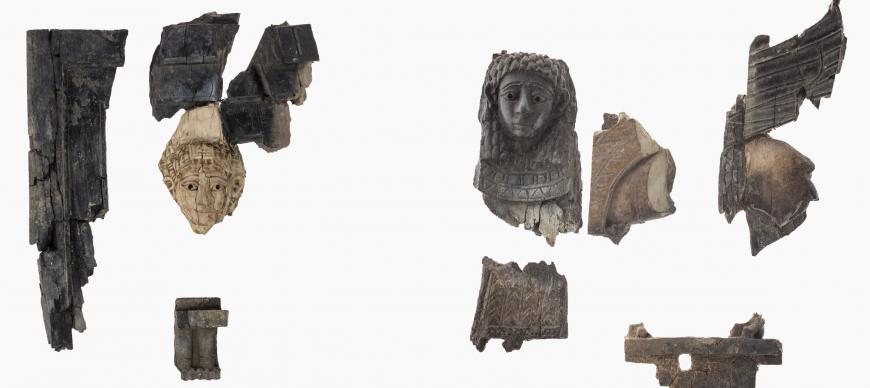 Carved ivory plaques depicting a woman at the window (left) and a frontal-face winged sphinx (right) from the reign of Sargon II (721–705 BCE), excavated at Khorsabad (A22164, A22169).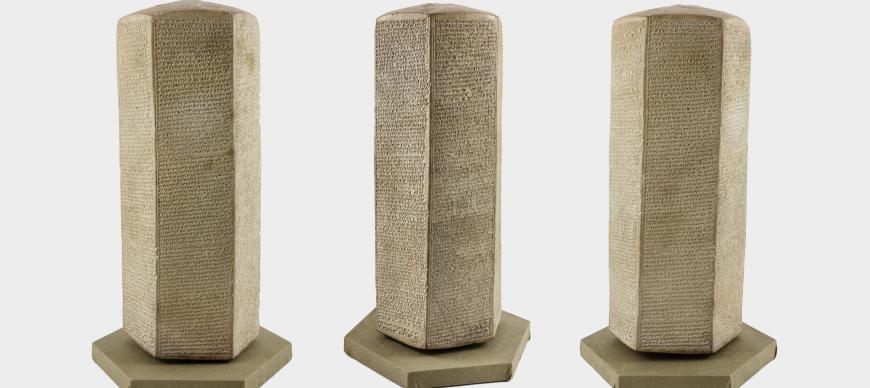 6-sided clay prism inscribed with the campaigns and building activities of Sennacherib (704–681 BCE), dated "In Month of Tammuz, Eponymate of Gahilu, Governor of Hatarikka," ca. 689 BCE, Nineveh (?) (A2793).
The Dr. Norman Solhkhah Family Assyrian Empire Gallery allows you to encounter the vase expense of the Assyrian empire. Experience the inside of an Assyrian palace through carved wall reliefs, showing a royal hunting scene and the presentation of tribute, from the palace of king Sargon II at Dur-Sharurkin (modern Khorsabad). Additional highlights of the gallery include the Sennacherib Prism, a perfectly preserved record in cuneiform script of the reign of the Assyrian king Sennacherib that includes his sack of Jerusalem; a bronze figurine of the grotesque yet malevolent demon Pazuzu; and statues of divine attendants from the Nabu Temple at Dur-Sharrukin. 
The majority of objects in the Yelda Khorsabad Court and Dr. Norman Solhkhah Family Assyrian Empire Gallery were excavated by ISAC's Iraq Expedition (1929–1935) at the archaeological site of Khorsabad (ancient Dur-Sharrukin, "Fortress of Sargon"). Additional objects on display demonstrate the geographical extent of the empire since they were excavated by ISAC at sites beyond the Assyrian heartland, including Nippur in southern Iraq and Tell Fakhariyah in Syria.