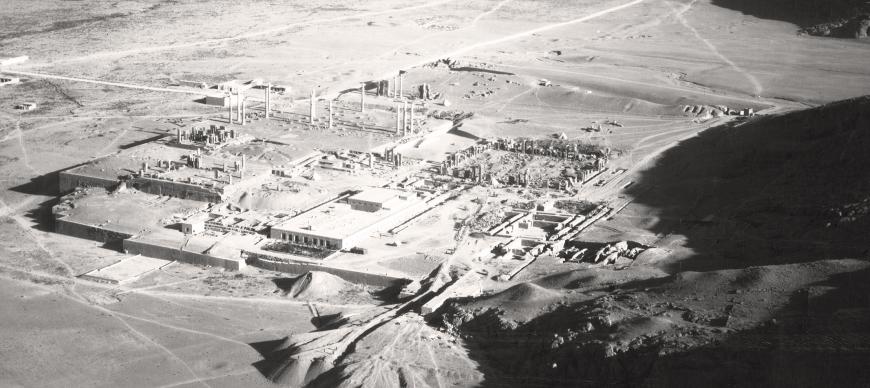 Taken during the Aerial Survey Expedition of Iran, directed by E. F. Schmidt, 1935–1937 (AE-477).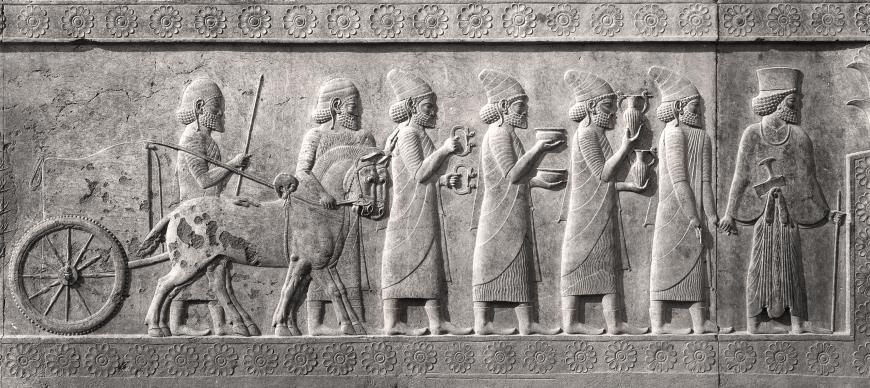 Relief from the eastern staircase of the Apadana (audience hall), Persepolis, Iran (P. 29002).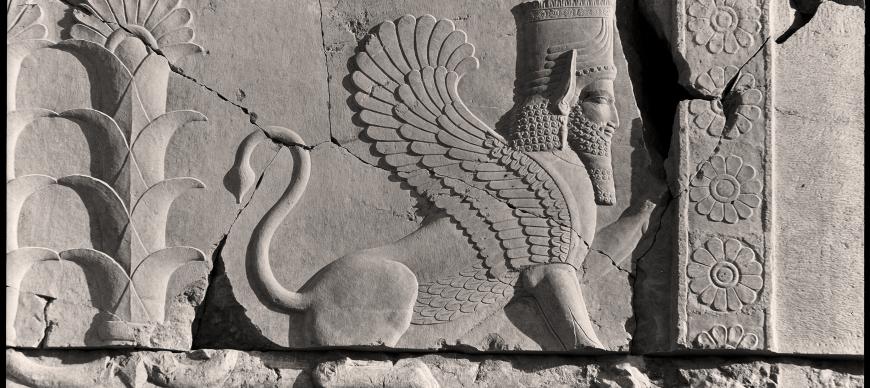 Relief from the outer face of the balustrade of the Central Building, Persepolis, Iran (P. 23185).
September 13th, 2015 – September 3rd, 2017
---
"Indeed every remains of these noble ruins indicate their former grandeur and magnificence, truly worthy of being the residence of a great and powerful monarch; and whilst viewing them, the mind becomes impressed with an awful solemnity!"  — William Francklin, British Officer of the East India Company, 18th century.
---
From 1931 through 1939 Ernst Herzfeld and Erich Schmidt directed the Oriental Institute's Persian Expedition in Iran. During their exploration, excavation, and restoration of this ancient site of the Achaemenid Persian Empire (550–330 BC), Herzfeld and Schmidt had photographers Hans-Wichart von Busse and Boris Dubensky document the architectural wonders and landscape of Persepolis. This rich collection of photographs is now housed in the Museum Archives of the Oriental Institute. The selection of photographs featured in Persepolis: Images of an Empire capture the quintessential elements of Achaemenid Persian architectural style: forests of columns, monumental audience halls, elaborate staircases, and stone relief carvings of people from all corners of the empire. This court style expresses the Achaemenid imperial ideology of harmonious order, power, and unity. The photographs on display also demonstrate the contrast between the imperial terrace with its imposing architecture and the surrounding barren landscape. This duality reinforced the magnitude and grandeur of Persepolis.
While in Iran, Schmidt conducted two seasons of aerial survey explorations (1935–1937), a project the scale of which had never been done before. From his plane, gifted to him by his wife, and named Friend of Iran, Schmidt and his assistant Dubensky took aerial photographs of excavations already in progress, of sites under consideration for archaeological work, and of areas of Iran yet to be explored. The aerial photographs allow archaeologists to see ancient architectural plans and road networks, and to understand the relationship between ancient settlements and their surrounding environment. A digital video on display in the gallery created by the Oriental Institute's Center for Middle Eastern Landscapes (CAMEL) allows you to explore the architecture of the site and to observe some of the differences between the Persepolis of today and that of Schmidt's era (watch the video online).
A selection of photographs from the Persepolis Expedition are included in an Oriental Institute text/mircrofiche publication entitled Persepolis and Ancient Iran: Catalog of Expedition Photographs (1976) and Flights Over Ancient Cities of Iran (1940). 
Photo archive records of the processed images on view in the exhibition, as well as installation photos, can be viewed through our Online Collections Search. 
This exhibit is curated by Kiersten Neumann, PhD, Curator and Research Associate at the Oriental Institute. 
This exhibit is made possible with support from: Guity Nashat Becker, the Federation of Zoroastrian Associations of North America, the Zoroastrian Association of Chicago, and the Iran House of Greater Chicago. 
Download the Exhibition Brochure for Perseopolis: Images of an Empire.
Read the Press Release.
In the News:
Related Programs and Events for Families and Adults:
November 4, 2016 7:00–9:00pm. Oriental Institute Members' lecture, "Taking Care of Color in Persepolis: New Research on Painters, Palaces and Polychromies in Achaemenid Persia, c. 520–330 BCE," presented by Alexander Nagel, Research Associate, National Museum of Natural History, Smithsonian Institution, Washington DC. Registration recommended. Please visit the event page for more details and to register. 


​

Wednesday, March 9, 2016 5:30–8:00 p.m.

 Epic 

Wednesday
Fee: $15 members/$20 non-members.
Celebrate the delight of the coming Persian new year–Nowruz –with artisan food, craft beer, and music. Gain unique perspectives on our special exhibit Persepolis: Images of an Empire through expert-led gallery tours. Relax and immerse yourself in glory of an ancient empire through a film Persepolis Recreated.
Saturday, March 12, 2016 1:00–4:00 p.m. A Nowruz-themed ancient game day with a range of family friendly activities. More details to be announced shortly.

Saturday, March 11, 2017 1:00–4:00 p.m. Persian Nowruz Celebration: celebrate the delight of the coming Persian New Year — Nowruz! Color eggs, visit a Haft-Seen table, hunt the galleries, and take your New Year photo!

Wednesday, August 30, 7:00 p.m. Lecture: The Stones of Persepolis: Dissemination, Excavation, and Reconstruction, by Dr. Lindsay Allen (Collections Grant Recipient 2017–2018)
Our March 9th and 12th, 2016 and March 11th, 2017 programs are generously supported by Federation of Zoroastrian Associations of North America, the Zoroastrian Association of Chicago, and the Iran House of Greater Chicago.
Please watch out for further announcements.