September 11, 2012 – December 16, 2012
Danh Vo's "We the People" at the Oriental Institute Museum juxtaposes ancient and contemporary art. Vo's fragments of a full-scale replica of the Statue of Liberty are dispersed throughout the world with a section of the face and the gown on view at the Oriental Institute. The fragments exhibited at the Oriental Institute evoke its archaeological work because its excavations often recover fragments of statues, some of which are ultimately dispersed in different museums.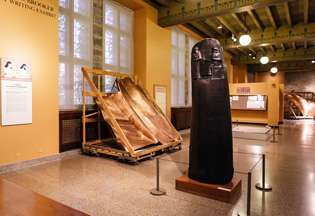 The Statue of Liberty was originally designed to stand at the entrance of the Suez Canal to commemorate the progress and industrialization of Egypt. That monumental sculpture was never realized, and a revised version was given to the United States by France in commemoration of the centennial of the American Revolution. On view through December 13, 2012. The fragments of "We the People" are presented in collaboration with the Renaissance Society of the University of Chicago.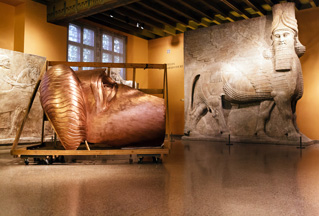 http://www.renaissancesociety.org/site/Exhibitions/Intro.Danh-Vo-Uterus.629.html
The Oriental Institute has produced its own exhibit label supporting the exhibit, relating to inspirations for the Statue of Liberty from the ancient world (i.e. Colossus of Rhodes), and the development of Bartholdi's early concept for the sculpture in 19th century Egypt.