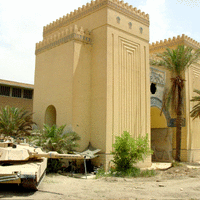 The Oriental Institute Museum of the University of Chicago presented an exhibit on the looting of archaeological sites and museums in Iraq entitled "Catastrophe! The Looting and Destruction of Iraq's Past" from April 10 to December 31, 2008.
The exhibit has since won two significant awards. The Association of Midwest Museums awarded it a Best Practices award for exhibits and programs at their 2008 annual meeting, and the American Association of Museums gave it their highest award ("Excellent") in the 2009 Excellence in Exhibition Label-Writing Competition (see News & Notes, Spring 2009, p. 14).
One of the notable effects of the exhibit was to bring additional attention to the Hague Convention that was ratified by the U.S. Congress on September 25, 2008.
The exhibit has also appeared on view at a number of different venues internationally in a traveling edition:
Newcastle University, U.K., May 2008
Sixth World Archaeological Congress, Dublin, July 2008
National Academy of Sciences, Washington, D.C., in conjunction with a conference on Iraqi heritage organized by the cultural attaché of the Iraqi Embassy, March 2009


Hague, Netherlands, Conference on Cultural Property sponsored by the Netherlands MOD and the Netherlands Ministry of Foreign Affairs held at the Friedespalais (March 2009).
Programs in Conjunction with the Exhibit
Full day public symposium: Looting the Cradle of Civilization: The Loss of History in Iraq (April 12, 2008)
Speakers included:
Donny George, former director of the Iraq Museum in Baghdad
Patty Gerstenblith, Professor, College of Law, DePaul University, Chicago, and Director of DePaul's Program on Cultural Heritage Law
McGuire Gibson, Professor of Mesopotamian Archaeology, University of Chicago
Abdulamir Hamdani, Director of Antiquities in Nasiriya Province in southern Iraq
John Russell, Professor of Art at Massachusetts College and former Deputy Advisor to the Iraqi Minister of Culture and the Coalition Provisional Authority
Elizabeth Stone, Professor of Mesopotamian Archaeology at SUNY Stony Brook
Lectures
Micah Garen "Iraq: Must Cultural Heritage be a Casualty of War?" (November 18, 2008).
Elizabeth Stone "Boots on the Ground: Evaluating Damage to Iraq's Antiquities in 2003 and 2008" (December 3, 2008)