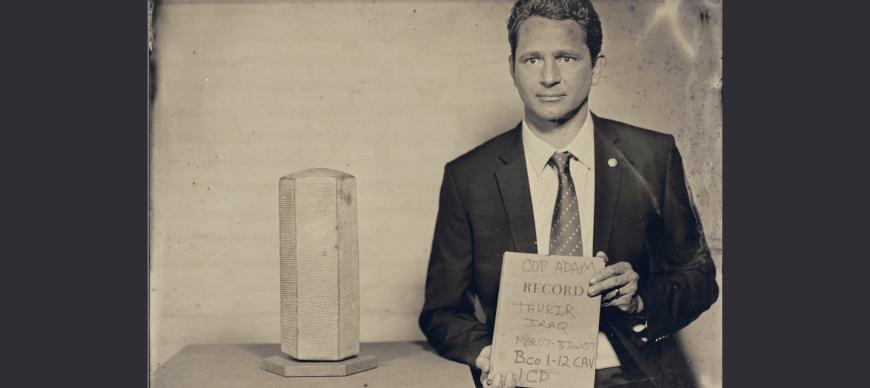 Portrait of Kenneth Clarke, President and CEO of the Pritzker Military Library, with a prism incised with the accounts of the battles of the Assyrian king Sennacherib (689 BC) (OIM A2793) and a notebook detailing daily military activities in the battle of Baqubah, Iraq (2007).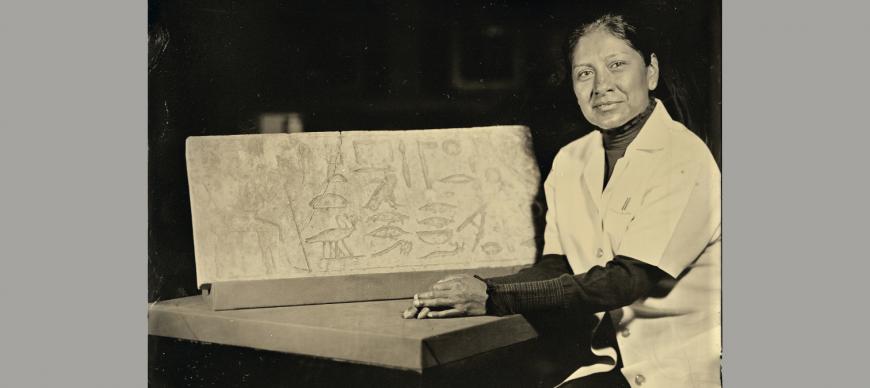 Gloria Margarita Tovar, a nail technician at the Elizabeth Arden Red Door Salon in Chicago, shown with an architectural element from the tomb of an Overseer of the Palace Manicurists, ca. 2430 BC (OIM E10815).
A Revised Exhibit of the Original Show, "Our Work: Modern Jobs – Ancient Origins," Now on Display in the Lower Level of the Oriental Institute
August 28, 2014 – April 24, 2016
Our Work: Modern Jobs – Ancient Origins, an exhibition of photographic portraits, explores how cultural achievements of the ancient Middle East have created or contributed to much of modern life. To show the connections between the past and today, artifacts that document the origins or development of professions such as baker, farmer, manicurist, brewer, writer, astronomer, or judge in the ancient world are paired with a person who is the modern "face" of that profession. The resulting 24 photographic portraits represent the diversity of Chicago residents, ranging from ordinary workers to local luminaries. The portraits are accompanied by commentary on the specific contribution of the past and remarks from the modern representative, resulting in fascinating new insights into how members of the public view their relationship to the past.
The photographer for the project is Jason Reblando, whose work is in the permanent collections of the Philadelphia Museum of Art, the Milwaukee Art Museum, the Union League Club of Chicago, and the National Center for Civil and Human Rights in Atlanta. To visually connect the present with the past, he produced tintype portraits using a 19th century photographic process. Reblando worked with Chicago arts journalist Matthew Cunningham who documented the sessions with interviews of five of the subjects, the resulting videos forming a multi-media component to the exhibition.
This revised exhibit presents an updated selection of the panels from the original show, "Our Work: Modern Jobs - Ancient Origins," displayed at the Oriental Institute from August 20, 2013 through February 23, 2014. This smaller version of the show is on exhibit in the Lower Level of the Oriental Institute adjacent to our Kipper Family Archaeology Discovery Center.
The original exhibit was supported by Kitty Picken, the David C. and Sarajean Ruttenberg Arts Foundation, John B. Simon, Norman and Virginia Bobins on behalf of the Robert Thomas Bobins Foundation, and members of the Oriental Institute.
The exhibit is curated by Jack Green and Emily Teeter.
The exhibit catalog is available at https://oi.uchicago.edu/research/pubs/catalog/oimp/oimp36.html.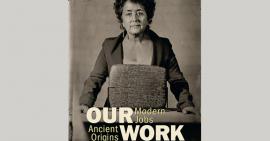 Download the Special Exhibit catalogue.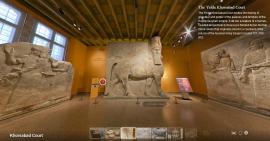 Experience the Oriental Institute Museum's 360° interactive virtual tour!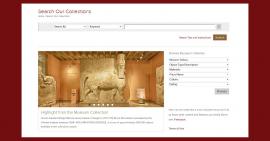 Browse materials in the Oriental Institute Museum Collections and Archives.