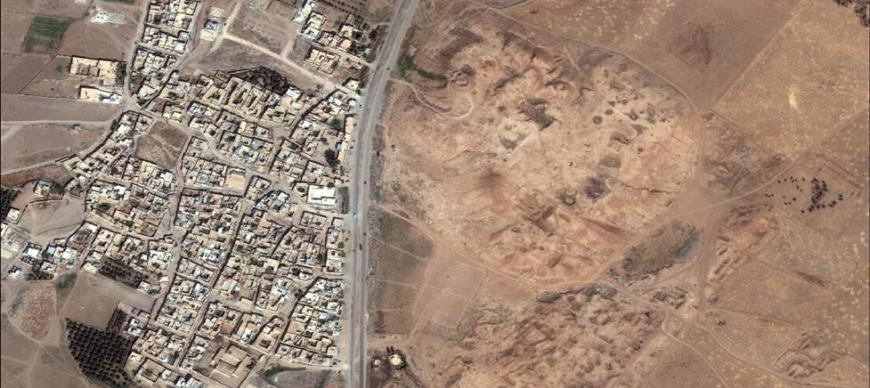 Image: Google Earth and the Digital Globe Corporation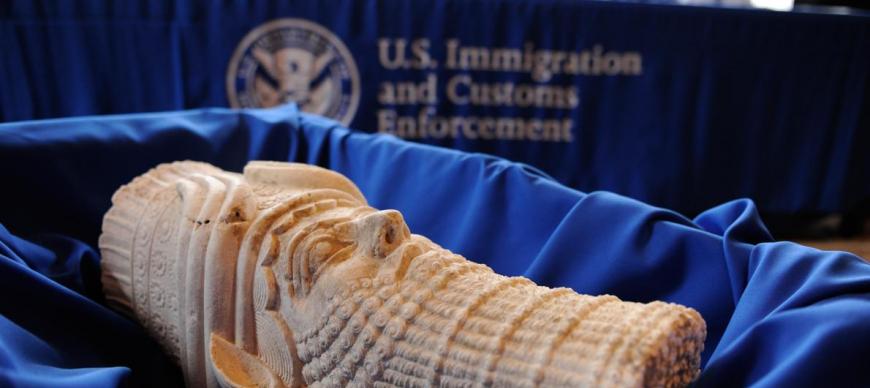 Seized in 2008 by Homeland Security Investigations agents in New York. Returned to Iraq in March 2015
Image: Kelly Lowery, US Immigration and Customs Enforcement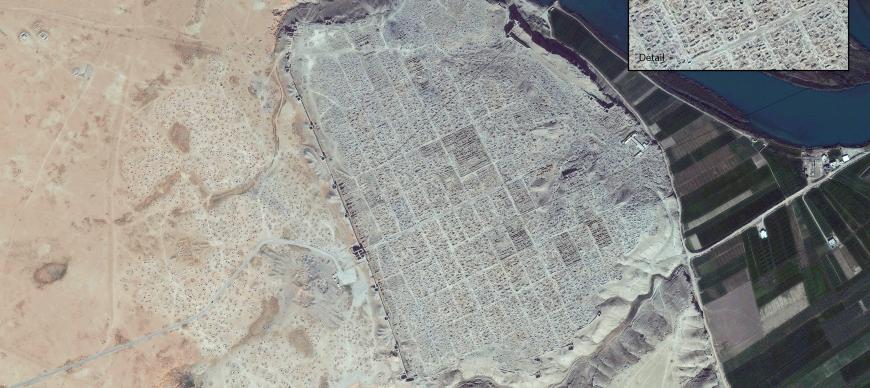 Inset shows the looted areas within the ancient city. Each dark dot represents a looter's pit
Image: © 2014 DigitalGlobe Inc.
May 21, 2015 – December 18, 2016
This exhibit is presented at a time when heritage is under threat as never before. In the Middle East and North Africa, political instability and conflict have displaced populations and added ever greater threats to archaeological sites, landscapes, and museums. Destruction and looting of archaeological sites is widespread around the world – not just in the Middle East. Urban growth and agricultural development are still the biggest global threats to archaeological heritage – a fact seldom covered in mainstream media. This exhibit documents threats to heritage and provides an outlook into possible ways to help prevent further losses and build a stronger future for the past.  The exhibit is made up of a series of graphic panels interspersed throughout our permanent galleries, with a focus on Mesopotamia (Iraq and Syria), the Southern Levant, Egypt, and Nubia.
Curated by Jack Green with contributions from Akiva Sanders, Emily Hammer, Kiersten Neumann, Morag Kersel, Emily Teeter, Bruce Williams. With additional thanks to Gil Stein and McGuire Gibson. 
What Can YOU Do?
Support humanitarian organizations that help people most impacted and displaced by war – they are the future guardians of their cultural heritage.
Support organizations that help monitor, document, and preserve cultural heritage in the region.
Do NOT buy undocumented artifacts. Report artifacts that may have been looted or stolen.
Influence local museums to ensure their acquisition policies require documentation of purchased artifacts.
Encourage your government representatives to build support for cultural and archaeological heritage at home and abroad.
Learn about the rich history of the ancient Middle East and the role that archaeology plays in understanding our past.
The Oriental Institute of the University of Chicago: https://oi.uchicago.edu/
The Oriental Institute's campaign for the Chicago Center for Archaeological Heritage Preservation: http://campaign.uchicago.edu/priorities/oriental-institute/archaeological-heritage-preservation-center/
Archaeological Institute of America (AIA): http://www.archaeological.org/
American Schools of Oriental Research (ASOR) – Syrian Heritage Initiative: http://www.asor-syrianheritage.org/ 
Penn Cultural Heritage Center – Syria: http://www.pennchc.org/page/syria
The Getty Conservation Institute (GCI):  http://www.getty.edu/conservation/
American Research Center in Egypt (ARCE):  http://www.arce.org/
ICOM International Observatory on Illicit Traffic in Cultural Goods: http://obs-traffic.museum/
UNESCO - Stop trafficking cultural heritage in Iraq and Syria: http://www.unesco.org/new/en/culture/themes/illicit-trafficking-of-cultural-property/awareness-raising-initiatives/help-stop-the-destruction-of-cultural-heritage-in-syria-and-iraq/
US Department of State:  Syria Cultural Heritage Initiative: http://eca.state.gov/cultural-heritage-center/syria-cultural-heritage-initiative
U.S. Committee of the Blue Shield: http://uscbs.org/
SAFE - Saving Antiquities for Everyone:  http://www.savingantiquities.org/
The Antiquities Coalition: http://theantiquitiescoalition.org/
APSA 2011 - The Association for the Protection of Syrian Archaeology: http://www.apsa2011.com
Heritage For Peace: http://www.heritageforpeace.org/
Project Mosul:  http://projectmosul.org/
Contact Us: The Oriental Institute Museum can forward your query to relevant authorities: oi-museum@uchicago.edu
Contact the FBI Art Crime Team: http://www.fbi.gov/about-us/investigate/vc_majorthefts/arttheft/art-crime-team
Email (Chicago and Midwest):  ArtCrimeTeamChicago@ic.fbi.gov 
Complete online tip form: https://tips.fbi.gov/
Contact U.S. Immigration and Customs Enforcement
Homeland Security Investigations: cultural property, art and antiquities investigations
Tip line: 1-866-DHS-2-ICE
Complete online tip form: https://www.ice.gov/webform/hsi-tip-form
INTERPOL (International Police Organization)
Complete online tip form: http://www.interpol.int/Forms/WorksOfArt
U.S. State Department "Rewards for Justice"
Provide information leading to the disruption of Trafficking in Oil and Antiquities Benefiting ISIL: https://rfj.cms.getusinfo.com/english/trafficking_oil_and_antiquities.html